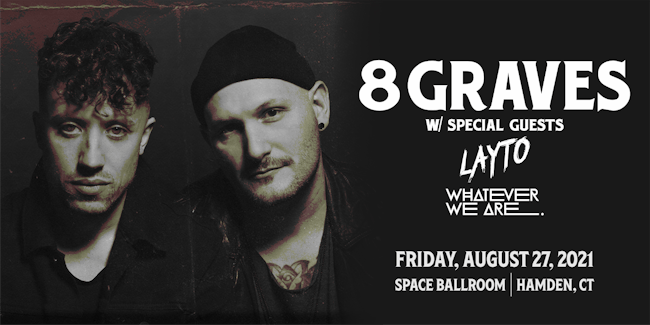 Premier Concerts and Manic Presents:
8 Graves
Layto, Whatever We Are
$10.00 - $15.00
Sales Ended
with Layto, Whatever We Are
General Admission Standing Room Only
COVID-19 Policy
COVID-19 Vaccination (14 days past second shot) OR proof of negative COVID-19 PCR test (received within the past 72 hours) required for entry. If vaccinated, please bring your vaccination card or clearly legible photo of your vaccination card on your phone and a valid photo ID. If unvaccinated please bring printed or digital proof of your recent negative PCR test. Masks are required for all ticket holders and staff despite vaccination status. You may pull your mask down when eating or drinking only. These policies will remain in place until further notice.
To present proof of vaccination and/or negative PCR test results on your phone, we've partnered with Bindle, a digital health platform that is secure, easy to use and completely anonymous; your personal health information is never shared and your biometrics are not required. Visit the App Store or Google Play Store and search for "My Bindle." Set-up is free and simple. If you are unable to provide digital proof, physical proof is also accepted.
8 GRAVES
NYC-based Alternative Rock duo, 8 Graves, play by their own rules. Rejecting common internet clout chasing and the flash-over-substance culture that is so prevalent in music today, they are blazing their own path to success with emotionally impactful songs, a strong message, and individual, one-on-one personal contact with their thousands of supporters across their various social media outlets. They have become a safe place for listeners who may not have a musical home in this age of pop-driven simplicity. Their powerful connection to their loyal fan base has propelled them to a remarkable amount of success with almost little-to-no support from the "machine" of the music industry.
As a completely independent artist, everything 8 Graves has achieved has been on pure merit. They've found their songs placed on some of the most exclusive playlists streaming services have to offer, including Spotify's Viral 50 (US, Poland, Latvia), Rock This, The New Alt, New Noise, Singled Out, Fresh Finds, Alternative Beats, 100% Rock, Soak Up the Sun, and Friday Cratediggers, and have had multiple tracks featured on Apple Music's Best of the Week. They've received airplay on SiriusXM's Alt Nation and BPM, as well as terrestrial stations KITS San Fran, KTCL Denver, KCJK Kansas City, WRIF Detroit, KPNT St. Louis, KFRR Fresno, KFMA Tucson, WSFS South Florida, WLKK Buffalo, KFMG Des Moines, WCYY Portland, WSOU, and many others. They also made their television soundtrack debut on ABC/Marvel Studio's Cloak and Dagger, and have had their songs featured in nationwide retail chains like H&M. In addition, 8 Graves has received the praise of many high-profile music blogs, like Alternative Press, Earmilk, Baeble Music, Substream Magazine, and Mandatory.
To date, 8 Graves' devoted fan base has helped them amass more than 250,000,000 streams on their catalog. However, the statistic of which singer, Brent Carpentier, is most proud? "We have basically zero unanswered comments on any of our social media content," he laughs. "As long as it's humanly possible for us to keep it that way, we always will. Our music is so personal, and the people who are identifying with it are so important to us. We want to talk to them. We want to comfort them. We want to know them. And we want them to know us. Human connection is such an inherently important part of who we are as people, and what we stand for as musicians. We truly love our supporters, and we have to do our best to express that."
With so many major milestones already behind them, 8 Graves shows no signs of slowing down. Their reach is expanding, and their message is resonating with more and more listeners every day. They convert those listeners to fans, and then to friends, through their emotional vulnerability and personal contact with their rapidly growing base. Their brand of artistry, vulnerability, honest, and transparency is something all their own, and the secret is out.
8 Graves will release their much-anticipated new EP, Everyday Oblivion, produced by Dwight A. Baker (MISSIO, The Wind and The Wave) on 11.19.21.
Links: Official Website | Facebook | Twitter | Instagram | Spotify
LAYTO
Layto was born and raised in Boston. Being the youngest of five, in the midst of family turmoil and dysfunction, music became an escape. Layto independently released his debut 'Low Boy' EP in 2018 featuring single "Little Poor Me" which has over 40 million streams worldwide. Layto has an intensity about his style, delivery and blending of alt rock, pop, and hip/hop elements. His music has given a voice to the millions who suffer from anxiety and depression.
WHATEVER WE ARE
Members Gabrielle Ross and Ian Biggs—had spent the majority of their careers as solo arts, but the chemistry when they wrote and recorded together was undeniable, so they embraced the new direction and uprooted their lives to move into a shared house on Long Island where they could make music in their living room-turned-studio-space full time. As a result, these songs represent not only a clean start artistically, but also a fresh new outlook on life. Whatever We Are's music blurs the boundaries of genre as it melds two distinct voices into a singular whole. Their mission is to carry this theme of breaking boundaries much farther than music, and inspire others to be undeniably true to who they are. With this, they wear white to symbolize unity and a blank canvas as white reflects ALL colors. Both members contributing equally to their songs, starting from a blank canvas each time and the creative process forever a new formula. The foundation based on a judgment free zone, no limitations, just open mindedness and passion. Fall of 2019 they went on a National 32 city tour opening for Witt Lowry and they are thrilled to be getting back on stage summer 2021.

Links: Official Website | Facebook | Twitter | Instagram | Spotify

Venue Information:
Space Ballroom (Front Room).
295 Treadwell Street
Building G
Hamden, CT, 06514