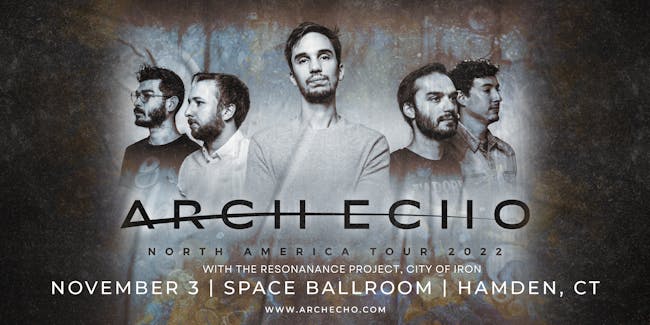 Premier Concerts and Manic Presents:
Arch Echo
The Resonance Project, City of Iron
$21.54 - $26.69
Sales Ended
with The Resonance Project, City of Iron
General Admission Standing Room Only
Health Advisory
Entry requirements are subject to change. By purchasing tickets to this event you agree to abide by entry requirements in effect at the time of the event. Check the venue website leading up to your event for the latest protocols.
ARCH ECHO
Arch Echo is the brainchild of five musicians who wish to push the envelope of modern music. Their goal is to create music that is not only complex, but accessible to the listener, delivered with passion and enthusiasm. Formed in 2016, Arch Echo exploded onto the progressive metal/fusion scene with a debut self-titled album that gained worldwide attention, housing popular songs "Hip Dipper" and "Color Wheel". Tours in North America and Europe soon followed including a mainstage debut at the UK Tech Fest in 2018. Arch Echo returned with a 2019 follow up "You Won't Believe What Happens Next!" and again in 2020 with their 4-track EP, "Story I". Tours with artists such as Dream Theater, Periphery, Plini, Vola and a co-headline Japanese tour with Jacky Vincent brought their powerful live sound to new ears all over the world.
Links: Official Website | Facebook | Twitter | Instagram | Spotify
CITY OF IRON
The torchbearers of what can only be described as "Death Pop," there is no sound or genre considered off limits when it comes to City of Iron's sonic design ethos. The band has never shied away from blending juxtaposing musical influences together in order to create a rich tapestry of originality. Every note paints a darkly abstract picture and every word punctuates the imagery until you feel it like your own teeth grinding your tongue into pulpy bits. The key holders to the iron city welcome you in to dance and scream as if the end wasn't nigh, but already behind us, and we remain eternal in the void.

Links: Official Website | Facebook | Instagram | Spotify

Venue Information:
Space Ballroom
295 Treadwell Street

Hamden, CT, 06514