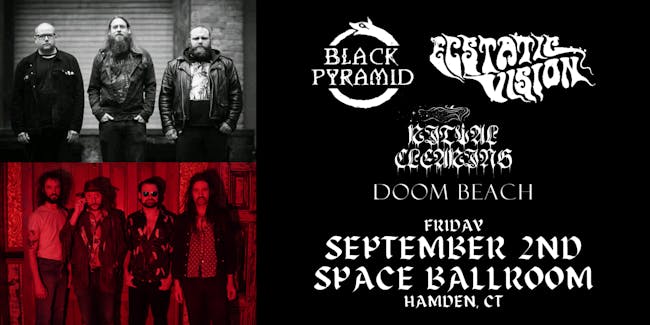 Premier Concerts and Manic Presents:
Black Pyramid
Ecstatic Vision, Ritual Clearing, Doom Beach
with Ecstatic Vision, Ritual Clearing, Doom Beach
General Admission Standing Room Only
COVID-19 Policy
Masks are strongly encouraged.
By purchasing tickets to this event, you agree to abide by the State of CT, City of Hamden, Artist, and Space Ballroom's Health and Safety measures in effect at the time of the event. Check back for updates to your event on our website as guidelines and entry requirements are subject to change.
BLACK PYRAMID
Black Pyramid play doom with the rumbling down-tuned tones of stoner metal gods but with the epic arrangements of old school metal and doom acts.
Add to the sonic brew perfectly executed forays into vintage psych and progressive rock, along with the apocalyptic lyrical ravings about war, the occult, and general alienation, and you've got an accurate picture of what the band is all about.
Links: Official Website | Facebook | Twitter | Instagram | Spotify
ECSTATIC VISION
ECSTATIC VISION introduced their brand of heavy primal psych influenced by groups like Hawkwind, Aphrodites Child, Olatunji, Can and early Amon Duul ll in late 2013. Formed in Philadelphia to primarily "play what they wanted to hear," the band quickly rose to those in the know as a force to be reckoned with.
ECSTATIC VISION signed to Relapse Records on the power of a demo and their psychedelic freak out, primal live concerts. Their debut LP, Sonic Praise saw a release by Relapse in June 2015 and during this time the band toured the US with prestigious acts such as Enslaved, YOB and Uncle Acid & The Dead Beats in addition to numerous shows with the likes of Earthless, Red Fang, Acid King and many others. This was followed by a European run that saw them perform at the legendary Roadburn Festival in addition to dates with Bang, Pentagram, and more.
In April 2017, ECSTATIC VISION returned with their 2nd LP Raw Rock Fury, an even more tripped out showcasing of the band's raucous mix of troglodyte Detroit rock grooves, soothing Krautian motoric sounds, filthy Beefheartian blues and Hawkwindian primal world heavy psych! The addition of multi-instrumentalist Kevin Nickles (Saxophone/Flute/Guitar) has helped the band reach beyond the void and further create a sense of auditory hallucination with Raw Rock Fury. Prepare for one of the dirtiest sounding recordings since MC5's Kick Out the Jams. Headlining tours of the USA and Europe followed and saw the band share the stage with John Garcia, Dead Meadow, Bongzilla, and the Cosmic Dead and also included a blistering headlining slot on one of Desertfest Berlin's stages.
In 2018 the band returned with Under The Influence on the Italian label Heavy Psych Sounds. Under The Influence is Ecstatic Vision's take on some of their favorite songs by some of their biggest influences ranging from Zam Rock to the kings of early Psychedelia and Detroit rock.
In 2019 fall the band released For The Masses on Heavy Psych sounds and supported Brant Bjork on a USA tour. They then immediately headed to Europe for a packed-out club tour. After the For The Masses tour was cut short due to the pandemic the EV boys took a much needed break. They re-grouped a year later and started jamming what would become their new album. In fall 2021 the band recorded live at RetroCity Studios in Philiadelphia with Joe Boldizar. He brought the band out of the muck and together they produced their best sounding record to date. The band will release the new album in May 2022 in front of a massive 7 week tour of Europe that will see them play to anywhere from thousands of people at Hellfest to 50 die-hards in some sweaty club.
Links: Official Website | Facebook | Instagram | Spotify
RITUAL CLEARING
The solitary collective known as Ritual Clearing has been patiently refining their craft since the earliest days of 2019, relentlessly pushing their sonic depravity to its unnatural limits while seeking the most effective means by which to spread their otherwise seclusive screed to the world. Now, in 2022 (with the assistance of kindred spirits the Eternal Death label) Ritual Clearing brings their depraved and reclusive message to infect the masses. While paying proper homage to essential Swedish black metal bands of yore (Bathory, Sacramentum, Lord Belial), Ritual Clearing also showcases their ingenuity as they concoct a seething contrivance of darkness and isolation. Melodic yet cutting, Ritual Clearing serves to ignite the spark necessary to usher in the new gods, while acknowledging the aural firmament of the old.
Links: Official Website | Facebook
DOOM BEACH
Doom Beach is a two-piece noise rock band formed in 2018. Once unceremoniously described as, "the sound of pain leaving the body," their music pairs hellish noise with punk energy, evoking bands such as Lightning Bolt and early Full of Hell.

Doom Beach released their debut album, Dark Arts, in 2019 and is slated to release their sophomore record, Copperhead, on July 29th, 2022 via The Ghost Is Clear Records.

Links: Official Website | Facebook | Instagram | Spotify

Venue Information:
Space Ballroom
295 Treadwell Street

Hamden, CT, 06514