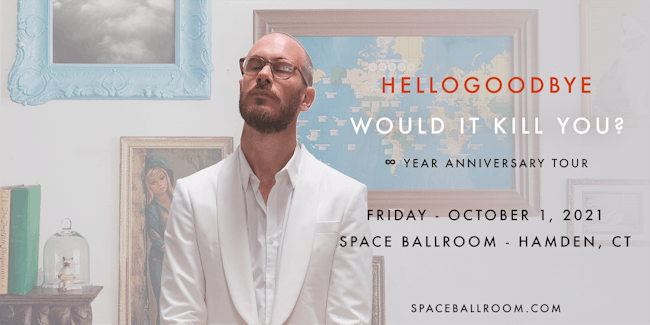 Premier Concerts and Manic Presents:
Hellogoodbye
Early Eyes, Emil Beckford / Sofía Campoamor
$20.00 - $25.00
Sales Ended
with Early Eyes, Emil Beckford/Sofía Campoamor
General Admission Standing Room Only
COVID-19 Policy
COVID-19 Vaccination (14 days past second shot) OR proof of negative COVID-19 PCR test (received within the past 72 hours) required for entry. If vaccinated, please bring your vaccination card or clearly legible photo of your vaccination card on your phone and a valid photo ID. If unvaccinated please bring printed or digital proof of your recent negative PCR test. Masks are required for all ticket holders and staff despite vaccination status. You may pull your mask down when eating or drinking only. These policies will remain in place until further notice.
To present proof of vaccination and/or negative PCR test results on your phone, we've partnered with Bindle, a digital health platform that is secure, easy to use and completely anonymous; your personal health information is never shared and your biometrics are not required. Visit the App Store or Google Play Store and search for "My Bindle." Set-up is free and simple. If you are unable to provide digital proof, physical proof is also accepted.
A Tour celebrating 10... 11? years of their 2010 LP, 'Would It Kill You?' with the classic album performed in full as well as career spanning highlights from 20 years of Hellogoodbye.
HELLOGOODBYE
Hellogoodbye is a pop rock band that was formed in Huntington Beach, California in 2001 by singer Forrest Kline. They were signed to Drive-Thru Records and released their first full-length album Zombies! Aliens! Vampires! Dinosaurs! in 2006, having previously released the EP Hellogoodbye in 2004, and DVD OMG HGB DVD ROTFL in 2005. In 2010, the band released Would It Kill You? on their label Wasted Summer Records. The album was released in the United Kingdom and Europe by LAB Records on March 14 2011. Hellogoodbye released their third album, Everything Is Debatable, on October 29, 2013, while touring as the opening act for Paramore's The Self-Titled Tour. Their fourth album, S'Only Natural, was released on October 5, 2018.
Links: Official Website | Facebook | Twitter | Instagram | Spotify
EMIL BECKFORD / SOFÍA CAMPOAMOR
Emil Beckford is a New Haven-based singer/songwriter/producer. Throughout his quarantine, he finished his first album, Songs About Isolation, which was released in May 2021 and explored pursuing love from a variety of angles while the world is shut down. He describes his music as alt electronic soul because it involves a lot of big synths, fake jazz chords, and singing way too high, though his live performances are more stripped and intimate.

Born in Washington, DC, Sofía Campoamor first started writing songs to make school projects more fun. This lighthearted approach to academics took her to Yale University, where she performed a cappella music around the world as the first woman member of the Whiffenpoofs. Now based in Brooklyn, Campoamor blends wit and vulnerability in her folk-pop tales of love, distance, and dreams.

Emil Links: Official Website | Facebook | Instagram | Spotify

Sofía's Links: Official Website | Facebook | Twitter | Instagram

Venue Information:
Space Ballroom.
295 Treadwell Street

Hamden, CT, 06514