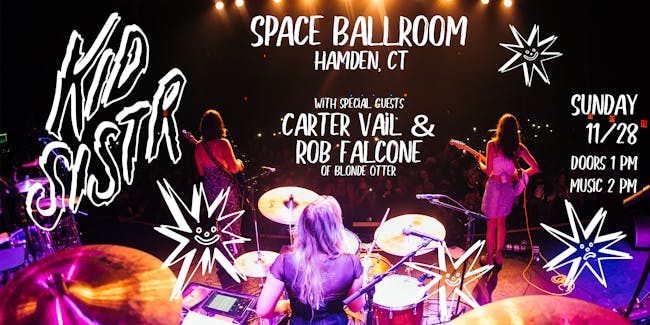 Premier Concerts and Manic Presents:
Kid Sistr (Matinee Show)
Carter Vail, Rob Falcone (of Blonde Otter)
with Carter Vail, Rob Falcone (of Blonde Otter)
General Admission Standing Room Only
COVID-19 Policy
COVID-19 Vaccination (14 days past second shot) OR proof of negative COVID-19 PCR test (received within the past 72 hours) required for entry. If vaccinated, please bring your vaccination card or clearly legible photo of your vaccination card on your phone and a valid photo ID. If unvaccinated please bring printed or digital proof of your recent negative PCR test. Masks are required for all ticket holders and staff despite vaccination status. You may pull your mask down when eating or drinking only. These policies will remain in place until further notice.
To present proof of vaccination and/or negative PCR test results on your phone, we've partnered with Bindle, a digital health platform that is secure, easy to use and completely anonymous; your personal health information is never shared and your biometrics are not required. Visit the App Store or Google Play Store and search for "My Bindle." Set-up is free and simple. If you are unable to provide digital proof, physical proof is also accepted.
KID SISTR
Kid Sistr is Sabel (guitarist), Sara Keden (bassist) and Rebecca Webster (drummer), an all-women, New-York-born indie trio. The band's bright sound and colloquial writing reflect their varied influences; a Kid Sistr listener will hear the bursting bubble gum of the Top 40 charts, the palatable peculiarity of 1980s new wave, the unabashed amplitude of 2000's alternative rock, and the meticulous construction of the singer-songwriter style. The resultant songs are rosy shards of guitar-pop ear candy, ready to be unwrapped and dissolved.
Kid Sistr's debut EP is a self-titled, six-track project. The first single, 'Little Sister Song', is a spirited, rock-and-roll dedication to snarky younger siblings and rom-com teenager-dom. Although lighthearted in sound and verse, 'Little Sister Song' carries substantial sentiment for the band members. Sabel, Keden and Webster are all eldest children in sister-only families. This uniting fact not only provides the inspiration for the group's name, but also heavily informs Kid Sistr's creative identity. The shared experience of sisterhood motivates Kid Sistr to represent the interests and realities of young women. Each track on the EP is a piece of a pooled consciousness between sisters. Together, the six songs on Kid Sistr make an equally humorous and emotive portrait of womanhood. Kid Sistr demonstrates the trio's willingness to become shiny, strange, silly, or soft in order to tell profound stories of ambition, heartbreak, femininity, sexuality and friendship. The EP is out now on all streaming platforms
Links: Official Website | Twitter | Instagram | Spotify
ROB FALCONE (OF BLONDE OTTER)
Five friends named Matt (drums), Rob (bass, vocals), Brendan (rhythm guitar) , Michael (vocals), and Dan (lead guitar) formed a band in The Bronx while attending Fordham University together. They wrote and practiced music in the basement of their apartment. They called themselves Blonde Otter.
They recorded two EPs together and played at legendary New York City venues like Mercury Lounge, Bowery Electric, and Gramercy Theatre. Then Brendan moved to Vietnam to teach English to students. So Blonde Otter recruited their good friend, and Matt's next door neighbor, Steve as the new rhythm guitarist.
With their new coalition, Blonde Otter recorded their third EP and played to sold-out crowds at The Bowery Ballroom and Knitting Factory. Blonde Otter recorded their first full length album at Red Convertible Recording, a studio in Brooklyn. The owners and producers there are named Ricky and Kieran. They are also good friends.
Together, they make sweet, sweet music. Check out our self titled debut album as soon as possible. Thank you.
Links: Official Website | Twitter | Instagram | Spotify
CARTER VAIL
Carter Vail is an artist whose music is at once deeply intriguing and nostalgic. His songs, bundled in bright synths, distorted guitars and a "we'll do it live" production style, are both energetic and intensely lyrically focused, bringing to mind acts like The National, The Cure & Local Natives.

Inspired by a musical household in Connecticut, Carter developed a deep love for sound, leading him to study audio engineering, and move to Nashville, TN. While producing acts like Sara Keden, Sabel & Parker, Carter has consistently been honing his own music. After releasing several singles, Carter now plans on releasing his debut full length album in 2020.

Links: Official Website | Instagram | Spotify

Venue Information:
Space Ballroom
295 Treadwell Street

Hamden, CT, 06514