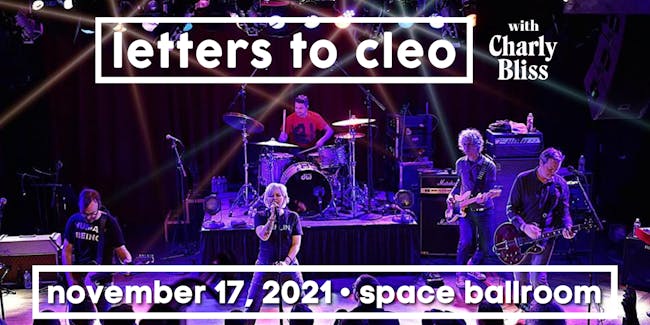 Premier Concerts and Manic Presents:
Letters To Cleo
Charly Bliss
with Charly Bliss
General Admission Standing Room Only
COVID-19 Policy
COVID-19 Vaccination (14 days past second shot) required for entry. Please bring your vaccination card or clearly legible photo of your vaccination card on your phone and a valid photo ID. Children under 12 who are unable to be vaccinated please bring printed or digital proof of a negative PCR test taken within 72 hours. Masks are required for all ticket holders and staff despite vaccination status. You may pull your mask down when eating or drinking only. These policies will remain in place until further notice.
To present proof of vaccination and/or negative PCR test results on your phone, we've partnered with Bindle, a digital health platform that is secure, easy to use and completely anonymous; your personal health information is never shared and your biometrics are not required. Visit the App Store or Google Play Store and search for "My Bindle." Set-up is free and simple. If you are unable to provide digital proof, physical proof is also accepted.
LETTERS TO CLEO
When Boston alt-rock band Letters To Cleo split after 10 years, 3 albums, and thousands of tour miles together, it was at the behest of a pact that singer Kay Hanley and guitarist Greg McKenna made with each other when they started the band in 1990.
"We said that we'd stop doing it when we weren't having fun anymore." says Hanley. "I had just had a baby, (lead guitarist) Michael Eisenstein and (drummer) Stacy Jones were recording and touring with Veruca Salt's Nina Gordon, (bassist) Scott Riebling was crazy in demand as a record producer, and I know it was frustrating to Greg to be in the shitty position of doing all the work to try and keep the ball rolling. It felt hard all of a sudden, and I hated that feeling."
Soul searching done and tough decisions made, Letters To Cleo called it quits. The band members moved into new careers in and out of the music business, with Hanley, Eisenstein, and Jones migrating to Los Angeles. They all remained friends and sometimes even colleagues, collaborating on a host of movie, TV, and touring projects.
Now, for the first time in 17 years, Hanley, Eisenstein, Jones, and McKenna have written and recorded five brand new songs for "The EP", are poised to launch a Pledge Music campaign, and will play club dates in Boston, NYC, Chicago, San Francisco, and Los Angeles in the Fall. So why reunite now?
"Because we're good and stuff", laughs Jones. "To me, the question isn't 'Why are we doing this now?', the question is, 'Why didn't we do it sooner and why aren't we doing it more?''
McKenna adds, "It's a blast. I mean, we spent our formative years learning how to do this stuff together. When it was done, we went out and lived our lives and now everyone's bringing their experiences back to this at a new level of musicianship, but writing with these guys still feels effortless."
The new material reflects McKenna's sentiment. All 5 songs are instantly recognizable Cleo concoctions that fans will devour. From Eisenstein's fierce, angular guitars locking horns with Jones' roaring locomotive rhythm on "Hitch A Ride" to McKenna and Hanley's signature melodic ESP on "Good Right Here", the Cleo bandmates are in prizefighter form.
Staying true to the chemistry that defined their muscular pop sound throughout the 90's was key to Cleo's new venture. "It feels completely unforced. It sounds like classic Cleo. But at the same time, there's nothing nostalgic about it.", says Jones.
In addition to playing guitar, bass, and keys on The EP, Eisenstein also handled the lion's share of production at Death Star Studio in the Koreatown section of LA, where he and Jones are current and former partners, respectively. Eisenstein is hesitant to pick any favorites from the new batch of songs but offers, "I really like "Four Leaf Clover" because it's so in line with who we are as a band. It could have been on any of our records. The emotional content of "Back To Nebraska" is impossible to deny. It's beautiful and powerful."
According to Hanley, the opportunity to re-unite with her former band and make new music came almost from out of nowhere. "I didn't have time to think up reasons to say no, so I just said yes. We didn't have a plan. We just jumped in and everything unfolded really quickly. We all love the new songs and can't wait to start playing them. It's really fun!"
Links: Official Website | Facebook | Twitter | Instagram | Spotify
CHARLY BLISS
The members of Charly Bliss have known each other, in one capacity or another, since middle school. But they have perhaps never felt closer than last year when they took part in the kind of high octane bonding ritual that makes or breaks a relationship: walking in LA. "I know this is the joke, but literally no one walks there," says frontwoman Eva Hendricks, laughing. "People were looking at us like we were crazy." There was a kind of meditative determination that took over as these super-pale, die-hard New Yorkers ventured out into the stifling smog on their way to the legendary Sunset Sound studio, where they were recording their forthcoming sophomore album, . "It was just the four of us being alone together, getting our heads on straight," Eva continues. "It felt like we were really locked in. It was so good."

Feeling conspicuously out of place together was exactly the right energy for Charly Bliss to tap into at this moment. Challenging each other to be exposed, to be seen for who they really are as people, and then to double down on the sound that emerged collectively from that process is the story of the band's evolution from the scrappy upstarts who made 2017's brash punk LP , to the confident, assured artists behind the comparatively dynamic, unapologetically pop . "We definitely go to different places on this one," says bassist Dan Shure. "But it still sounds like us. It's still fun."

Links: Official Website | Facebook | Twitter | Instagram | Spotify

Venue Information:
Space Ballroom
295 Treadwell Street

Hamden, CT, 06514