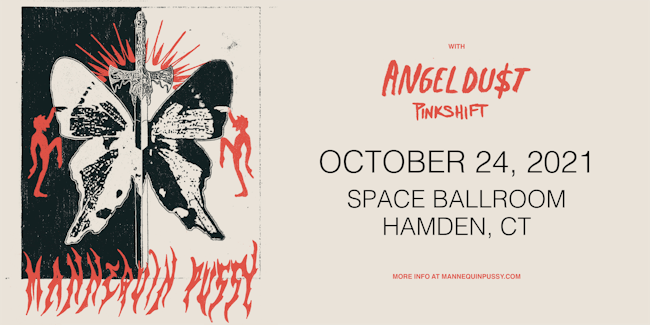 Premier Concerts and Manic Presents:
Mannequin Pussy
Angel Du$t, Pinkshift
with Angel Du$t, Pinkshift
General Admission Standing Room Only
COVID-19 Policy
COVID-19 Vaccination (14 days past second shot) OR proof of negative COVID-19 PCR test (received within the past 72 hours) required for entry. If vaccinated, please bring your vaccination card or clearly legible photo of your vaccination card on your phone and a valid photo ID. If unvaccinated please bring printed or digital proof of your recent negative PCR test. Masks are required for all ticket holders and staff despite vaccination status. You may pull your mask down when eating or drinking only. These policies will remain in place until further notice.
To present proof of vaccination and/or negative PCR test results on your phone, we've partnered with Bindle, a digital health platform that is secure, easy to use and completely anonymous; your personal health information is never shared and your biometrics are not required. Visit the App Store or Google Play Store and search for "My Bindle." Set-up is free and simple. If you are unable to provide digital proof, physical proof is also accepted.
MANNEQUIN PUSSY
At the start of 2020, everything was looking up for Mannequin Pussy. The Philadelphia punk band had released their third album, Patience, to abundant critical acclaim, and was touring steadily behind it. After nearly a decade of playing, the band finally had gotten the chance to turn music into a full-time occupation. And then, just as their career was lifting off, the world around them collapsed. COVID-19 reached the United States, rescinding life as many people knew it. Live music shut down. Mannequin Pussy had just played a final show in Chicago when the group had to cancel the remainder of their tour and travel back to their home city. For a while, it seemed like maybe the lull would be temporary, a brief pause before things could resume as they were. And then the numbers ballooned, and the months stretched on, and memories of rooms packed with strangers started to feel alien, dangerous even in imagination.Mannequin Pussy's new Perfect EP bursts forth from those sprawling months of social isolation and internet-fueled anxiety. After spending most of the year apart from each other and everyone else in 2020, the members of the band -- Missy on lead vocals and guitar, Colins "Bear" Regisford on bass, and Kaleen Reading on drums -- decided to book studio time and work together in person again. They brought two pre-written songs into the session, but opted to write new material together on the fly from the excitement of reunion. "We just figured if we forced ourselves into this situation where someone could hit 'record,' something might come out," Missy says. "We'd never written that way before."What came out of that compressed session time were some of Mannequin Pussy's most furious, incandescent songs yet. The self-imposed restraint and careful habituation of the past year cracked open. On the EP's title track, Missy sings about the practice of condensing your daily life into a manicured stream of images for social media, an urge that only intensified after daily life grew barren. What happens to the social impulse when everyone you love or even like is leveled into a set of pixels -- when you're compelled repeatedly to funnel your own life into that algorithmic slurry, and wait to see how it's received? "It was a really weird psychological experience, being bombarded by images of other people constantly when you are not around a lot of other people," Missy says. "I'm still understanding the way we use the internet to make our lives feel and look perfect. Our lives aren't supposed to look good right now."Even the songs written before the pandemic take on a new valence after a year of its frustrations. "I'm in control / That's what I tell myself when all the walls around me close in," Missy sings in the prescient opening lines of "Control." Tuneful and brash, with a white-hot molten core, the songs on Perfect thrash against the learned helplessness that has settled in on the cellular level under lockdown. Social media algorithms apply pressure to perform even from the depths of that powerlessness, to construct the image of a bountiful life in times of extreme scarcity. From the smolder of "Pigs is Pigs" to the melancholic, contemplative "Darling," Perfect digs into the cracks of that compulsory veneer, and let loose everything simmering beneath it. The anger, frustration, loneliness, and resentment of a year spent locked away all come sputtering forth. And once they've rushed out, once the air clears from their tumult, there's suddenly a little more space to seek out calm, to find solace. There's an opening forward into whatever comes next in the rush and the mess of living.
Links: Official Website | Facebook | Twitter | Instagram | Spotify
ANGEL DU$T
Comprised of Justice Tripp (Vocals), Daniel Fang (Drums), Pat McCrory (Guitars/Vocals), Brendan Yates (Guitars/Vocals), and Jeff Caffey (Bass), Angel Du$t is a band averse to boundaries. Stacking hooks and harmonies over unorthodox acoustic guitars, beds of hand percussion, and the occasional saxophone, Angel Du$t are leaders for the shifting zeitgeist into punk circles. That is their rebellion.
Links: Official Website | Facebook | Twitter | Instagram | Spotify
PINKSHIFT
Pinkshift is a fem-fronted rock band new to the scene from Baltimore. With writing inspired by 90s grunge and 2000s pop punk, the band walks the lines between riot grrl, punk rock, and post-hardcore. Melting together different musical roots through a common love for angsty rock, the band embraces their diverse backgrounds to create an authentic and powerful sound.

The band was born in 2018 out of Paul Vallejo and Ashrita Kumar's original project, Sugar Crisis. The pair met in college and started writing and recording a number of full-band demos as Sugar Crisis. The following year, they met their drummer, Myron Houngbedji, and chose a handful of those demos to play, as well as a new name (Pinkshift), for their first show. In 2020, Pinkshift adopted Erich Weinroth as their bassist through a Tinder swipe.

The band released Saccharine, their debut EP, in 2021 which included singles "i'm gonna tell my therapist on you," and "Toro/Rainwalk" to widespread fan & critical acclaim with coverage from Stereogum, SPIN, Kerrang, Alt Press, and many more.

Pinkshift is Ashrita Kumar (vocals), Paul Vallejo (guitar), Myron Houngbedji (drums), Erich Weinroth (bass).

Links: Official Website | Facebook | Twitter | Instagram | Spotify

Venue Information:
Space Ballroom.
295 Treadwell Street

Hamden, CT, 06514