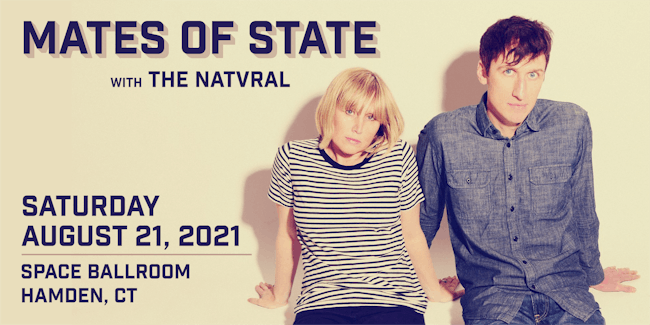 Premier Concerts and Manic Presents:
Mates of State
The Natvral (Kip Berman of The Pains of Being Pure at Heart)
General Admission Standing Room Only
MATES OF STATE
How does a band keep evolving and moving forward after 15 years? First up, embrace the modern age and the way that people are consuming music these days. "I don't like it, but the long play album format is probably dead," says Mates of State singer/drummer Jason Hammel. "Now we just want the hits. Don't bother me with filler; get me your best songs straightaway." Rather than lamenting this shift in listening preferences, Hammel and his bandmate Kori Gardner are taking a very KISS-like approach with their new music: you wanted the best, you got the best. The pair's new self-produced EP 'You're Going To Make It,' then, is nothing but choice cuts; five anthemic and emotionally-rich songs that will quickly take up residence in your mental jukebox; five anthemic songs that wriggle into your every waking hour like the earworms they are. This new batch of tunes is Mates of State in its purest form. The razor sharp harmonies, shimmering new wave synth melodies, an internal warmth that can only come from a couple that has been musically and romantically involved for nearly two decades, and lyrics that speak to both personal and universal concerns. On "Beautiful Kids," the band speaks to how, even though we are connected to one another 24/7 thanks to modern technology, a sense of loneliness still pervades. Or as Hammel puts it: "We all just want to be seen, but we won't look up from our screens so that we can be seen." "Gonna Get It" and "I Want To Run" build off the same inspiring notion of the EP's title, encouraging both themselves and their fans to keep striving no matter what the odds. And fist-pumping opener "Staring Contest" connects us to that delicious ache of schoolyard crushes and youthful love. It's not just the manner in which Mates of State is planning to release music from here on out that is evolving, but also how the band will be presenting them on their upcoming tours of U.S. and Europe. "We're focusing more on performance as a whole and not being stuck behind our instruments," says Hammel. "We're coming to the front of the stage for some songs. Kori plays drums, Jason does some keys. Mixing up the performances in new and exciting ways." The band is also exploring some new creative avenues this year with the release of 'The Rumperbutts,' a feature film that Hammel and Gardner acted in and composed the score for. Written and directed by Marc Brener, the film will hit theaters on May 22nd. After a decade and an half of acclaimed albums and live performances, and songs that have become near pop standards for a generation of music fans, it's good to know that Mates of State isn't content with coasting. Hammel and Gardner are working as hard as ever and looking excitedly toward what the future has to offer. 'You're Going To Make It' comes out June 16, 2015 on Barsuk Records.
Links: Official Website | Facebook | Twitter | Instagram | Spotify
THE NATVRAL (Kip Berman of The Pains of Being Pure at Heart)
As the frontman of The Pains of Being Pure at Heart, Kip Berman wrote songs about the thrills and ills of young adult life with the care and concern of a cool older sibling. The long-standing New York City indiepop group disbanded soon after releasing their final record, The Echo of Pleasure (2017), and Berman found himself at a creative crossroads. He wanted to keep making music, but the themes and sounds he was interested in had shifted; it felt time for a course correction.

Enter Tethers, Berman's first solo record as The Natvral, which finds him coming to terms with the changes in his own life by observing those transformations in the people he's known – a self-portrait in relief. In the time between making his last record with his former band, Berman's life and location have shifted dramatically, as he welcomed a daughter, then a son, and moved from Brooklyn to Princeton. With his new identity as a parent came a crucial shift in how he approached music. Gone were the months in a cramped tour van and late nights rehearsing with his band in a windowless warehouse space. In its place were amorphous, suburban afternoons playing whimsical songs to two young children, while writing music for himself after their bedtime.

But in this time away from the life of a touring artist, Berman discovered an unvarnished, broken folk rock sound-- a marked departure from his previous work.

Links: Official Website | Facebook | Twitter | Instagram | Spotify

Venue Information:
Space Ballroom.
295 Treadwell Street

Hamden, CT, 06514