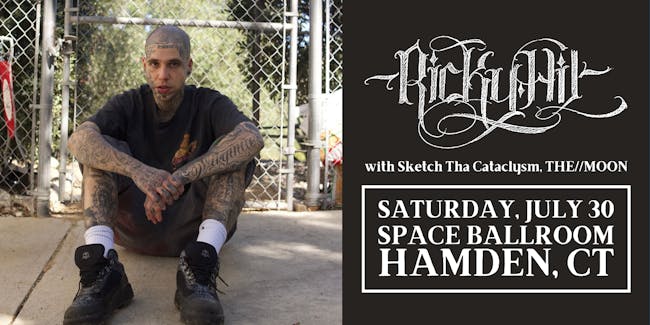 Premier Concerts and Manic Presents:
Ricky Hil
Sketch Tha Cataclysm, THE//MOON
with Sketch Tha Cataclysm, THE//MOON
General Admission Standing Room Only
COVID-19 Policy
Masks are strongly encouraged.
By purchasing tickets to this event, you agree to abide by the State of CT, City of Hamden, Artist, and Space Ballroom's Health and Safety measures in effect at the time of the event. Check back for updates to your event on our website as guidelines and entry requirements are subject to change.
RICKY HIL
Ricky Hil's murky, drug-fueled rap is a long way off from the bright and mainstream work of his father, fashion mogul Tommy Hilfiger. He emerged in the mid-2010s with projects such as SYLDD (2014) and Candy Painted Coffins (2015), and after an extended hiatus returned the next decade with Same Shit Different Day (2021).
The Manhattan-born Richard James Hilfiger became Ricky Hil in 2007 and began releasing a series of mixtapes. In 2014, he formed the Limo Nostra label and released the LP SYLDD, which stood for "Support Your Local Drug Dealer." The bleak album featured guest appearances from Kid Cudi and Leona Lewis, as well as The Weeknd, for whom Hil had co-written the Kiss Land track "Pretty." He traveled further along the downward spiral with 2015's Candy Painted Coffins, an album that featured songs like "Suicide Watch" and "Paranoia." Following the Lex Luger collaboration 500 Grams and Exorcissm, Vol. 1, both of which were issued in 2016, Hil took a lengthy break. In 2020, he offered a handful of downcast singles that led to Same Shit Different Day, released in early 2021. ~ David Jeffries, Rovi
Links: Official Website | Facebook | Twitter | Instagram | Spotify
SKETCH THA CATACLYSM
Sketch Tha Cataclysm is the pen name of Waterbury, CT born MC/Producer/Poet Armando Acevedo II. Through 16 projects of artful indie hip-hop, he's unleashed torrents of multi-syllabic introspection and emotional release over canvases of funk, rock, salsa, and more. Whether solo, backed by a DJ, or a full band, the stage show is always a dynamic and full bodied experience seeking to connect and move audiences all around.

Links: Official Website | Facebook | Twitter | Instagram | Spotify

Venue Information:
Space Ballroom
295 Treadwell Street

Hamden, CT, 06514