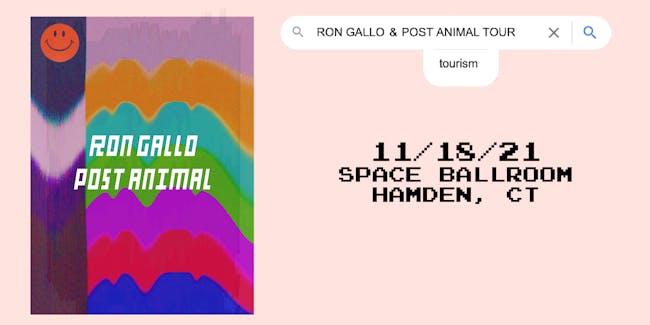 Premier Concerts and Manic Presents:
Ron Gallo
Post Animal
Why Bonnie
$16.00 - $18.00
Sales Ended
with Why Bonnie
General Admission Standing Room Only
COVID-19 Policy
COVID-19 Vaccination (14 days past second shot) OR proof of negative COVID-19 PCR test (received within the past 72 hours) required for entry. If vaccinated, please bring your vaccination card or clearly legible photo of your vaccination card on your phone and a valid photo ID. If unvaccinated please bring printed or digital proof of your recent negative PCR test. Masks are required for all ticket holders and staff despite vaccination status. You may pull your mask down when eating or drinking only. These policies will remain in place until further notice.
To present proof of vaccination and/or negative PCR test results on your phone, we've partnered with Bindle, a digital health platform that is secure, easy to use and completely anonymous; your personal health information is never shared and your biometrics are not required. Visit the App Store or Google Play Store and search for "My Bindle." Set-up is free and simple. If you are unable to provide digital proof, physical proof is also accepted.
RON GALLO
Trying to box Ron Gallo up is like trying to clutch water in your hands. If he was to have a "thing" it's like the monk and the mandala -- build something, then destroy it. Not intentionally but more out of necessity, a way to stay engaged and genuine in whatever he does, forever. His only constant is that there is none.
After years living in Philadelphia DIY touring, playing in different bands, starting joke projects, cleaning houses and filling hard drives full of songs of every genre (most that that never saw the light of day) in 2014 he decided to finally make himself his main project, something he could go all in on, also for practical reasons citing that "if I make music under my own name, the project can never break up, i can just die. It's like a lifelong commitment to myself."
During his final days in Philly before relocating to Nashville, Gallo finished his first proper solo album, 2017's HEAVY META which lead to signing his first record deal, widespread critical acclaim and touring the world including performances at Coachella, Bonnaroo, Governors Ball, Austin City Limits, Lollapalooza and more. The album was described by NPR as "a burst of literate electricity" and Gallo himself as an "insurgent poet and rock 'n' roll disruptor" in response to the viral music video for "Please Yourself" where Gallo and band performed guerilla style on the back of a pickup truck they stopped in the middle of the busiest section on Broadway in Downtown Nashville.
Gallo followed up quickly with the Really Nice Guys EP, a genre-bending joke concept album and mockumentary film commenting on the absurdities of his newfound role as a professional touring musician. Then in October 2018, came the release of his second LP Stardust Birthday Party -- a post-punk/new wave exploration of Gallo's spiritual path described by The Guardian as bringing "the fruits of meditation to Gallo's jams -- a little like Bodhisattva Vow marked the influx of MCA's Buddhism into the Beastie Boys."
After 3 years of non-stop touring behind these releases Gallo found himself at yet another wall. Physically and mentally burnt out and unsure of where to go next if anywhere at all. The band's last tour date was on June 4th, 2019 at Beaches Brew, an annual music festival taking place on the beach in Ravenna, Italy.
At yet another moment of breakdown, Gallo went on a hiatus, deleted social media, dissolved the band and planned to live the rest of the year in Italy in the hometown of his now-wife and collaborator, Chiara. This began a period of reinvention via self-embrace, returning to some semblance of normal life and re-evaluating everything. To assist in this process Gallo launched REALLYNICE.world a positive creative outlet for Gallo to share his interests, thoughts, interview random people and has since morphed into a digital festival and a clothing line.
Only a few weeks in to this break, due to visa issues, Gallo was unexpectedly sent back to America which lead to a three month period of mostly self-isolation in his house in Nashville where he began writing and recording music that would ultimately become the album PEACEMEAL.
PEACEMEAL, to be released worldwide 3/5/21, finds Gallo exiting the dark confines of the garage and going outside to make music with no limitation or plan. The result is a colorful hodgepodge of 90's hip-hop, r&b, weirdo pop, jazz, and punk -- his version of "pop music." Though the sounds have changed from album to album, and most drastically this time, the sense of humanity, humor and a truly eccentric worldview is the common thread in all of Gallo's music. This time we see a Gallo free of expectation, exploring music again in an almost childlike fascination way and playing pretty much all instruments himself, with some assistance from producer Ben H. Allen (Gnarls Barkley, Animal Collective). Written in similar circumstances the whole world would be in less than a year later, the introverted, isolated perspectives have become oddly universal.
Gallo's mission statement has gone from one of the end of the spectrum to the other -- where at one point he was a frustrated young guy out to try and change the world by stirring people out of complacency he's now landed on something much more light but equally as powerful -- to just be himself no matter what it is and encourage others to do the same -- one of the more radical things to do in a world that tries to box everything up -- and show you can actually have fun doing it.
Links: Official Website | Facebook | Twitter | Instagram | Spotify
POST ANIMAL
The sophomore full-length from Post Animal, Forward Motion Godyssey, unfolds with a frenetic momentum, mercurial and unhinged and gloriously volatile. In a bold leap forward both artistically and sonically, the Chicago-based alt-prog band sets their existential questioning to a wildly kinetic sound, mining inspiration from genres as divergent as electronic and psych rock. At turns rhapsodic and unsettling, meditative and chaotic, the result is anything but subtle: a richly layered experience primed to leave its audience indelibly transported. With its maximalist arrangements and larger-than-life scale, Forward Motion Godyssey came to life in a fittingly majestic location: a mountain-adjacent home in Big Sky, Montana, lent to the band by a friend of guitarist Javi Reyes. Holing up in the house for eight days—after spending 36 hours stranded in Fargo due to a devastating snowstorm. Throughout the recording of Forward Motion Godyssey, bassist Dalton Allison joined forces with longtime Post Animal collaborator Adam Thein to handle production duties, shaping a sonic landscape that's unpredictable but never wayward. "Making this record, we wanted to go extreme in a lot of different directions—we wanted to be as poppy as we've ever been, as over-the-top as we've ever been, as grandiose and heavy and dramatic as we've ever been," drummer Wesley Toledo notes. Despite its endless shapeshifting, Forward Motion Godyssey bears a cohesive grace, a factor undoubtedly tied to Post Animal's ever-growing connection as creative partners—their origins lying in a near-lifelong friendship between Allison and guitarist Matt Williams. In the making of Forward Motion Godyssey, that sense of unity emboldened the band as they shared their most emotionally revealing lyrics to date, with much of the album touching on what Allison describes as "the ways that your work or your passion drives you, sometimes to the detriment of yourself and of others."  And through that relentless self examination—as well as the album's deeply immersive complexity— Post Animal ultimately inspire a similar introspection within the listener.
Links: Official Website | Facebook | Twitter | Instagram | Spotify
WHY BONNIE
Blair Howerton started songwriting as a coping mechanism during her formative years. Her vivid lyricism has bloomed into the dazzling, full-band emotional release known as Why Bonnie. The band's Fat Possum Records debut EP Voice Box celebrates unhindered expression via beguiling, propulsive guitar pop.

In a decisive step to start performing her backlogged material, Howerton moved back home to Texas after graduating college in 2015. In Austin, Howerton joined lifelong best friend Kendall Powell, who she met in preschool. Powell's classical piano chops swapped to synth for the new project. Both active in the Austin scene, guitarist Sam Houdek and bassist Chance Williams later joined to complete the lineup.

In 2018, the band emerged on petite indie outlet Sports Day Records with In Water. The EP eulogized Howerton's older brother, who passed away years prior. Intimately bristling tracks explored the grieving process, introducing the group's uncanny ability to stir up huge catharsis in a seamless rise. Follow-up Nightgown expanded the effort, pulling lush Mazzy Star and Cranberries influences. Embarking on their first DIY tour the same year, Why Bonnie quickly landed opening runs for the like-minded sounds of Snail Mail and Beach Fossils.

The sum of those experiences culminates in the sweeping, layered rock sound of third EP Voice Box. Fuzzed-out guitars and crystalline vocals drive a tough-edged struggle in the space between suppression and artistic liberty. Howerton explains: "It encapsulates a disconnect between my inner and outer world, and not being able to express myself authentically because of that. But, ultimately knowing I will crash and burn if I don't."

The intense effort isn't always pretty. The title track fumes with quiet wisdom, urging: "I know it's easier to bury your uncertainties in a cloud of masculinity / Guess it's the curse you bear to talk over me." Breeders-inspired "Athlete" endeavors self-doubt in a blistering metaphor of failed sportsmanship. Fiery "No Caves" rises to a forceful album finale, unleashing the full windswept power of Howerton's vocals, padded by Houdek. Of the ending ascent, the lead singer decides: "It's about the freedom of realizing that you can't hide anymore. You have to put yourself out there."

Links: Official Website | Facebook | Twitter | Instagram | Spotify

Venue Information:
Space Ballroom
295 Treadwell Street

Hamden, CT, 06514