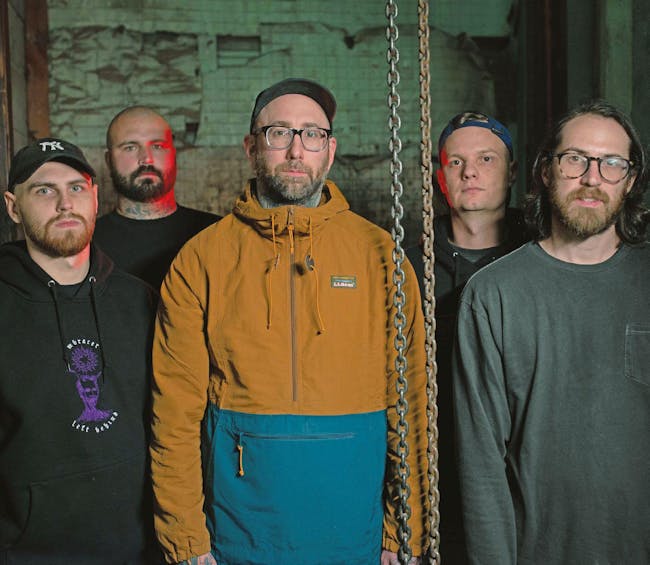 Premier Concerts and Manic Presents:
The Acacia Strain
I Am, 156/Silence, Chained to the Bottom of the Ocean
$20.00 - $25.00
Sales Ended
with I Am, 156/Silence, Chained to the Bottom of the Ocean
General Admission Standing Room Only
COVID-19 Policy
Masks are strongly encouraged.
By purchasing tickets to this event, you agree to abide by the State of CT, City of Hamden, Artist, and Space Ballroom's Health and Safety measures in effect at the time of the event. Check back for updates to your event on our website as guidelines and entry requirements are subject to change.
THE ACACIA STRAIN
East Coast metalcore ensemble the Acacia Strain utilize a bone-crushing rhythm section, apocalyptic samples, and a unique triple-guitar assault to deliver their signature blend of hardcore, noise, and death and doom metal. Emerging in the early 2000s, the band found success in 2008 with their fourth full-length effort, Continent, which soared to the top of Billboard's U.S. Heatseekers chart. Subsequent efforts like Death Is the Only Mortal (2012), Coma Witch (2014), and the horror-themed semi-concept LP It Comes in Waves (2019) continued to snap necks in the metal community with brutal efficacy.
Formed in Springfield, Massachusetts, in 2001, the group consisted of guitarists Chris Daniele, Daniel Daponde, and Daniel Laskiewitz, vocalist Vincent Bennett, bass player Karrie Whitfield, and drummer Ben Abert. They released their debut, ...And Life Is Very Long, in 2002, followed by 3750 on in 2004. After 3750, the band lost Abert (who was replaced by drummer Kevin Boutot) and Daniele, and gained bassist Seth Coleman (Whitfield departed in 2003). In 2006, the Acacia Strain returned with their third full-length album, Dead Walk, on ; subsequently, Coleman was replaced by bassist Jack Strong. Released in 2008, Continent found the group operating as a foursome, following Daponde's departure, while 2010's Wormwood introduced melodic hooks into the venomous mix of breakdowns and skull-splitting howling. The live CD/DVD Most Known Unknown arrived the following year.
The Acacia Strain signed to in 2012, releasing Death Is the Only Mortal by year's end. Longtime member Laskiewitz left the band in 2013, and was replaced by Devin Shidaker and Rich Gomez, both of whom contributed guitar to the Acacia Strain's seventh full-length album, 2014's Coma Witch. In early 2017, the group issued "Bitter Pill," the first single from their eighth studio long-player, Gravebloom, which arrived later that June. In late 2019, the band released It Comes in Waves, a doomy, taut, and atmospheric seven-song set with single-word song titles that, when put together, construct the sentence "Our only sin was giving them names." The following year saw the Acacia Strain issue a series of pummeling 7" releases (A, C, E, D, Y) that went on to form (and spell) the full-length Slow Decay, which arrived that summer.
Links: Official Website | Facebook | Twitter | Instagram | Spotify
I AM
I AM is a five piece metal band hailing from the Lone Star State of Texas. Their sub genre of heavy metal is called TEXAS DEATH. I AM takes their influences from the big four (Slayer, Metallica, Megadeth, and Anthrax) also staple bands such as Pantera, Power Trip, and Cro-Mags. I AM is the dive bomb guitar driven metal that the world needs.
Vocalist Andrew Hileman started the band in 2011 with a different lineup, but with the same vision of what evolved into the crushing metal band it is today. The band's debut album, "Life Through Torment" was released February of 2017. With this lineup they have been solidifying Texas Death across North America on tour with bands like The Acacia Strain, For The Fallen Dreams, Kublai Khan, Left Behind and many more.
The band signed with 1126 Records in 2018. I AM began recording the new album with Randy Lebeouf at Graphic Nature Audio (Kublai Khan, Left Behind, and Great American Ghost) with a vision of capturing their chaotic live performance and power. By the time they left the Graphic Nature Audio summer of 2018, their sophomore album, "Hard 2 Kill" was made. The album is set to release on November 2, 2018 and bring Texas Death to a new light.
Links: Official Website | Facebook | Twitter | Instagram | Spotify
156/SILENCE
Removing any semblance of rose-colored glasses and crushing them beneath the sole of their metaphoric boot, Pennsylvania quintet 156/Silence are done sugar coating the uncertainty, anger, and fear that they, and many others have felt over the course of the last couple years. Rather, pouring out their frustrations in the form of a brand-new EP, they found themselves contemplating a single gnawing question; what happens when there's no light at the end of the hallway, just a never-ending corridor of lost hopes and self-deprecating thoughts?

According to the band, there is no escape.

Out October 29, Don't Hold Your Breath is 156's second offering via SharpTone Records and proof that a small package can still deliver a hefty punch. Containing four powerful tracks and recorded in only four days' time, the EP is both a thematic ode to inescapable chaos and a prime study in calculated foresight.

Produced by Andy Nelson (Weekend Nachos), mastered by Will Putney (Every Time I Die, The Ghost Inside, Knocked Loose), and written in tandem with a brand-new album, Don't Hold Your Breath not only boasts several insightful hints, but stands out as the band's most deliberate and confident sound to date. Like an uneasy chill that shudders down one's spine, 156/Silence's latest release provides a haunting taste of what's to come. For when darkness envelops the light, it's only natural to feel both a heightened awareness of the present moment, and a ravenous hunger for what's next.

Links: Official Website | Facebook | Twitter | Instagram | Spotify

Venue Information:
Space Ballroom
295 Treadwell Street

Hamden, CT, 06514