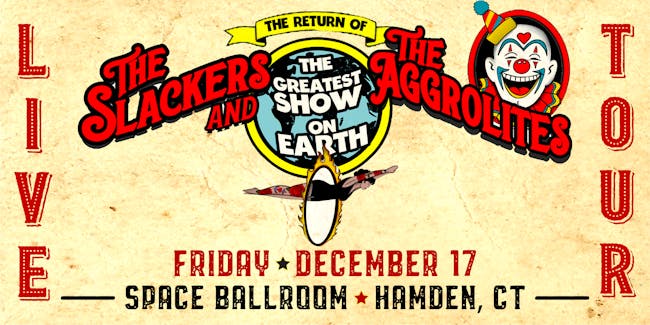 Premier Concerts and Manic Presents:
The Slackers
The Aggrolites
The Scotch Bonnets
w/ The Scotch Bonnets
General Admission Standing Room Only.
COVID-19 Policy
COVID-19 Vaccination (14 days past second shot) OR proof of negative COVID-19 PCR test (received within the past 72 hours) required for entry. If vaccinated, please bring your vaccination card or clearly legible photo of your vaccination card on your phone and a valid photo ID. If unvaccinated please bring printed or digital proof of your recent negative PCR test. Masks are required for all ticket holders and staff despite vaccination status. You may pull your mask down when eating or drinking only. These policies will remain in place until further notice.
To present proof of vaccination and/or negative PCR test results on your phone, we've partnered with Bindle, a digital health platform that is secure, easy to use and completely anonymous; your personal health information is never shared and your biometrics are not required. Visit the App Store or Google Play Store and search for "My Bindle." Set-up is free and simple. If you are unable to provide digital proof, physical proof is also accepted.
THE SLACKERS
For more than 28 years, the NYC-based and critically acclaimed Slackers have been touring the world with their blend of Ska, Reggae, and Soul.
The Slackers are a sextet based out of New York City. They mix together ska, reggae, soul, and rock n roll. Balancing strong rhythms with classic songwriting and poignant contemporary lyrics.
Since 1991, the Slackers have released fifteen albums and countless singles, while their 1000s of live performances feed their fans with energetic sets of ecstatic music. The press agrees: Modern Vinyl says "For some bands, hitting 25 years together seems light years away. For The Slackers, it's a cause for celebration. The band is deeply rooted within the ska movement, while their 'Jamaican Rock n' Roll' sound sets them apart from many bands today"
Other press state that the Slackers are "the best ska band in the world" (Rude International), "the pick of the US crop" (Metal Hammer), "the sound of New York" (New York Times), "is about as close to perfect as it gets" (Ink 19), and "one of the best bands in the United States" (axs.com).
In recent years, their festival performances have included Warped Tour 2019, Punk Rock Bowling, Fest Florida, Boomtown Fair, Rebellion Fest, Mighty Sounds, Shamballa, Pouzza Fest, Austin Reggae Fest, and many others.
Their headlining dates in 2019 began with tours of Canada, the American midwest, and Florida. In June, their 'big slack giveback' tour hit free outdoor concert spaces across the USA.
Their fall 2019 European tour had 27 dates including 7 sellouts in towns like Manchester, Vienna, and Brussels.
The band is finishing out 2019 with a 16 date 'holiday tour' across the United States. This includes multiple nights in Chicago, Denver, and Austin. They close out the year at Webster Hall in New York City.
Since 2018, the Slackers have been releasing a new single every 6 months. Their summer 2019 release, 'Way of a Woman'(screaming records), sold out of its first pressing in 2 days. Their next single, 'Babaroots' is due out on the NYCT label in December 2019.
Links: Official Website | Facebook | Twitter | Instagram | Spotify
THE AGGROLITES
The Aggrolites are more than a band they are a movement unto themselves. They carry a banner – one created with their own hands. This banner reads, "Dirty Reggae," and represents their signature fusion of reggae, soul, grit and determination. For seven magnificent years, this dirty reggae bunch has rolled from city to city, across the pond and up main street USA. They rally the kids, the parents, the students, the cops, the bosses and the drifters. The people come, they relish in The Aggrolites, the dirty reggae and the joy that comes with it all. The liberating rhythms and catchy grooves demand a return trip.
Out of the Los Angeles school of hard knocks, The Aggrolites have earned a PhD in "feel good music." On the road they educate with the thunder and punch of the reggae drums and bass, the ripping, soulful melodies of the organ and guitars, and Jesse Wagner's voice – a gift from the heavens, a perfectly intact gift from Otis, Sam, Ray and Wilson.
After eight years of touring the globe, The Aggrolites are proud to reveal their first live album, Unleashed Live Vol. 1. With five previous studio releases under their belt, including recently released Rugged Road, the next logical move for the band was a compilation of their favorite songs recorded live from recent shows at The Belly Up in Solana Beach, CA and The Roxy Theatre in Los Angeles, CA. Unleashed Live Vol. 1 features songs from all four previous studio releases plus a version of The Beatles "Don't Let Me Down" and "Banana" by the legendary reggae artist, Roy Ellis. Release date will be announced sometime this fall and available digitally worldwide and in select retail outlets nationwide.
The Aggrolites have a specific way of making music. They don't over think it, they don't obsess over pop culture demands, they walk onto a stage or into a recording studio and let "it" happen – a culmination of inspiration – from the road, from playing alongside legends, and from the energy and motivation of their die hard fans.
The Aggrolites are Jesse Wagner (vocals, lead guitar), Roger Rivas (organ), Jeff Roffredo (bass), Ricky Chacon (guitar) and Alex Mckenzie (Drums).
They have five other full-length albums to their credit — Dirty Reggae (Axe, 2003), The Aggrolites (Hellcat, 2006) and Reggae Hit L.A. (Hellcat, 2007), IV (Hellcat, 2009) and Rugged Road (Young Cub, 2011) "A glorious, surprising treat. Ideal for your next soul shakedown party," raved Peter Relic from Rolling Stone. In 2007, the band also collaborated with Rancid front man Tim Armstrong on his solo A Poet's Life (Hellcat 2007) CD/DVD release.
The Aggrolites are well represented in film, television and video games. Their songs have been featured in NBC's Friday Night Lights, MTV's The Hills, Nick Jr.'s Yo Gabba Gabba, USA's Dr. Steve-O, MavTV's Rad Girls, the award-winning surf film The Pursuit, and Australian video game Cricket. The Aggros-backed, Tim Armstrong and Skye Sweetnam duet, "Into Action," is featured in Dream Works Pictures' Hotel For Dogs and Summit Entertainments "50/50" featuring Joseph Gorden-Levitt and Seth Rogen. Their renditions of The Specials' "Ghost Town" and Musical Youth's "Pass The Dutchie" will be heard in the upcoming teen surf comedy Endless Bummer, and "Free Time" will be in Walden Media's musical-romantic comedy Band Slam.
The Aggrolites have shared the stage with Social Distortion, Rancid, Slighty Stoopid, Flogging Molly, 311, Michael Franti & Spearhead, Dropkick Murphys, Elvis Costello, Ernest Ranglin, Georges Clinton Funkadelic, Against Me! Gogol Bordello and many more. They have graced the stages at such notable events as Vans Warped Tour (3 Times), SXSW/Austin, Coachella in USA, Fuji Rock in Japan, Byron Bay Blues Fest in Australia, Pukkelpop, Groezrock, Dour, Pole Pole in Belgium, Lowlands, Dawpop Festival in Netherlands, West Coast Riot in Sweden, Sziget Festival in Hungary, Leeds & Reading, Rebellion Festival, Madstock, Beautiful Days in UK, Open Air St. Gallen in Switzerland, Pohoda Festival in Slovakia, Summerjam, Vainstream Rockfest, Chiemsee Reggae Festival, Endless Summer in Germany, Festi'Val de Marne, Rock dans tous ses états, Reggae Sun Ska, Festival du Bout du monde, Les Nuits Secrètes, Lez'Arts Scéniques, Couvre Feu Festival in France, Ostroda Reggae Festival in Poland, Nowa Reggae, Enclave de Agua, Erroma Ska-Reggae festival in Spain, Liberation Festival in Italy, Trnfest in Slovenia, Mighty Sound Festival in Czech Republic, Sakifo Festival in La Reunion Island (indian Ocean) among numerous others around the world.
Links: Official Website | Facebook | Twitter | Instagram | Spotify
SCOTCH BONNETS
In the pursuit of a dream, ten years isn't so long to wait to see a vision reach its fulfillment. Especially when, in that pursuit, one successfully gains a sure mastery of what they are doing, and how to do it. For The Scotch Bonnets, throughout their journey from engaging local band to potentially the next great thing, everything has always been done "with a little bit of rockin' style…"

Punky reggae rockers from Baltimore with big, original tunes and an infectious live energy, The Scotch Bonnets have evolved into a tight, dynamic unit since their debut in December 2009. Consistent with their ten-years-to-overnight-success story, 2019 was a defining year for the band. With the release of their second album Come On Over on Jump Up Records, the Bonnets embarked on two national tours opening for American ska founders The Toasters, and a third that brought them to the Victoria Ska & Reggae Festival in Victoria, British Columbia. Twice they slayed opening slots for Jamaican-rock'n'roll stalwarts The Slackers, at their residencies in New York City and Chicago, as well as sharing bills around the country with bands including The English Beat, The Pietasters, The Suicide Machines, Pilfers, Spring Heeled Jack, Westbound Train, and many others. Come On Over was selected by Do The Dog Skazine as one of its top albums of the year and additionally, several tracks from Come On Over have been in regular rotation throughout the year on numerous different ska radio shows, both online and on college radio.

After incubating her ideas at weekly reggae jams for months, singer-guitarist Kristin Forbes put together The Scotch Bonnets to be the vehicle for her songwriting. Dubbed Lady Hatchet by her peers, her tunes blend classic Jamaican grooves with a soulful, yet fresh approach to American singer-songwriting. In the beginning, there were two other women in the group, an intentional part of Hatchet's vision for a balanced, integrated male and female lineup. "I never wanted to be the only girl in the band," said Hatchet. "It's a lot of pressure to be the only one of anything. But there is real power in equality, the balance of different energies and ideas."

Over the years, as the band's membership changed, Hatchet pressed on as bandleader and sole female, fearlessly guiding her crew through the 2013 self-release of their first album, Live Ya Life. A collaboration with legendary hardcore singer HR of Bad Brains soon followed, that culminated in the 2014 EP Quest (released on Morphius Records). After suffering the sudden death of saxophonist, backing vocalist, and dear friend Doc Night in 2015, the band made an impressive return with the 2017 Jump Up Records release, The District 7".

The US backing band of choice for The Specials' founding lead guitarist Roddy Radiation, The Scotch Bonnets have collaborated with the 2-Tone pioneer twice, in 2015 and 2018. In advance of their first tour together, in 2015, the Bonnets released a video for "Tropical London", their contribution to Smelvis Records' tribute to Rancid, Hooligans United. The video has since been viewed on YouTube more than 18 thousand times. The highlight of their 2018 collaboration was the band's second appearance at the Supernova International Ska Festival, where they played one Scotch Bonnets' set and a second set backing Roddy.

The Scotch Bonnets' energetic live show has made them a favorite at local festivals and summer concert series in the greater Baltimore and DC area. The band has also earned praise for their covers on numerous tribute compilations, most notably their take on The Clash's "Are You Red…y," recorded at legendary Inner Ear Studios and released on Recutting The Crap (Crooked Beat Records) which reinterpreted the punk pioneers' final studio album. The Bonnets' cover of Lorde's massive international hit "Royals," which appears on Come On Over, is another outstanding cover and fan favorite at shows.

Since the band's inception, Lady Hatchet has relied on the constant presence of scene veteran and Bonnets bassist-turned-keyboardist Pablo Fiasco and vocalist-melodica player DJ Selah. Drummer Names Thompson joined in 2014 and, along with Fiasco, emerged as a solid backing vocalist after Doc Night's passing. However it was not until 2019, with the addition of saxophonist Tiffany DeFoe and bassist Jade Tremba, that Hatchet's original notion of balance and true equality was restored to the band, at last.

At they enter a new decade, The Scotch Bonnets are poised to go even further, with a powerful new lineup and brand-new songs. They are scheduled to appear at the 2020 Supernova Ska Festival and are currently planning an itinerary for the new year that will bring the band and their music to more places than ever before, with the accompanying support of some of the best bands in the game. The journey continues to evolve for the talented Lady Hatchet and her dedicated reggae cats!

Links: Official Website | Facebook | Twitter | Instagram | Spotify

Venue Information:
Space Ballroom
295 Treadwell Street

Hamden, CT, 06514