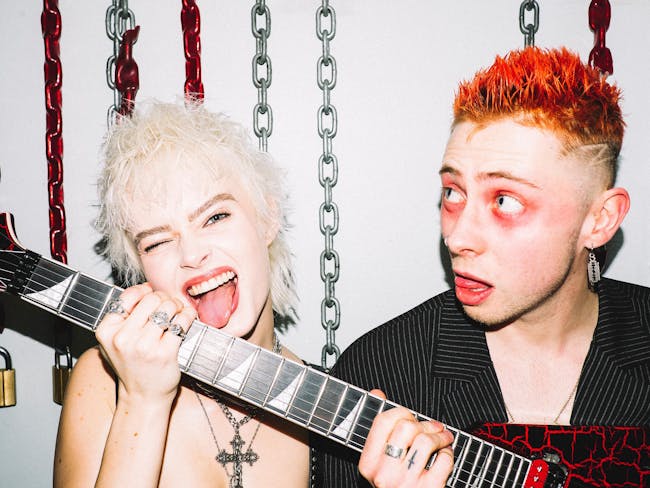 Premier Concerts and Manic Presents:
WARGASM UK
Dethwish, Hosemen
with Dethwish, Hosemen
General Admission Standing Room Only
COVID-19 Policy
Masks are strongly encouraged.
By purchasing tickets to this event, you agree to abide by the State of CT, City of Hamden, Artist, and Space Ballroom's Health and Safety measures in effect at the time of the event. Check back for updates to your event on our website as guidelines and entry requirements are subject to change.
WARGASM UK
Modern life is war: we are Wargasm. Three years ago this project began as a retaliation to the stagnant state of rock music around the world. A lot of synth and hip-hop has the same energy and elements as metal. Genre is dead and we're living off of "Energy." Wargasm was born in the right place and the right time to capture that feeling. This should be sexy and violent. Whatever people think, they'll think. We hope you find something from it, but we also don't care if you don't. All we can do is guide you here.
We called our mixtape Explicit, because Rock & Roll lost its way and abandoned its taboos. We're here to add some new ones. We're here to do horny rock music, because no one else is. We're here to confuse you. We're here to prove everyone wrong. We're here to make you say, "What the fuck?"
A few years ago, they met and incorporated synthesizers into their bloodthirsty brand of metallic mayhem. The single "Spit." ripped a hole through streaming services with over 3.7 million Spotify streams. Buzz increased as they dropped "Rage All Over," "Salma Hayek," and "Scratchcard Feeling." NME named them among "100 Acts to Watch in 2021," and Alternative Press touted them on its "New Bands To Watch" cover in 2021. They took home "Best UK Breakthrough" at The Heavy Music Awards. Beyond gigs with Yungblud and Creeper, they left audiences stunned at Reading and Leeds Festival, Download Pilot Festival, and Bloodstock.
Now, these two mavericks take no prisoners, give no fucks, and have heaps of fun on their 2022 mixtape Explicit [slowplay/Republic Records] and forthcoming full-length debut.
Links: Official Website | Facebook | Twitter | Instagram | Spotify
DETHWISH
Dethwish is music perfectly catered to your mental breakdown. With fans hailing from all corners of Tik Tok, Dethwish excels in creative and left-field production, energetic live shows, and diverting your every expectation. He has a small but cult fan base among the people who got picked last in gym class. Dethwish consistently shows versatility across the board, catering to fans of nu-metal, hyperpop, industrial, or anything that sounds evil. Dethwish shows a wide variety of influences from My Chemical Romance and Slipknot to Billie Eilish and 100 Gecs. More recently, the Brooklyn-based artist released his second single "Sick!" which combines the more sinister parts of rock and metal, while itching parts of the brain that only hyperpop can scratch. Currently working on a debut ep, Dethwish hopes to bring a repolished sound to both new and old audiences.
HOSEMEN
Hypnotic rock trio, Hosemen finds inspiration everywhere from the streets of Rotterdam to their dirty old hometown of Stamford, Connecticut. Guitarist and frontman Anthony Quinn Carpanzano formed the band, changing the name from Mantyhose to Hosemen when bassist Brien Adams and drummer Wade McManus joined in 2016. After more than a decade of dedication to songwriting and supporting the local music scene, Hosemen recently opened for Helmet in June of 2022 and Liege Lord in September of 2022.

Their first album Saturday Nite Conformity was recorded and mixed by Grammy-winning engineer Richard Corsello, who also mastered it at Sterling Sound in Nashville, TN. Corsello's experience recording household names such as Sonny Rollins, Bill Evans, Etta James, and Eddie Money shows in this album's sonorous production, which deftly weaves Hosemen's rock, dance, metal, and even operatic influences. "We are a very unique band that does not follow trends," says Quinn. "The songwriting comes from anything that resonates deep in your soul to the bottom of your toes."

After opening for the likes of Helmet and Liege Lord, the time has come for this reworked band to shine in its own right. Hosemen will be releasing a new album in 2023.

Links: Official Website | Facebook | Instagram | Spotify

Venue Information:
Space Ballroom
295 Treadwell Street

Hamden, CT, 06514