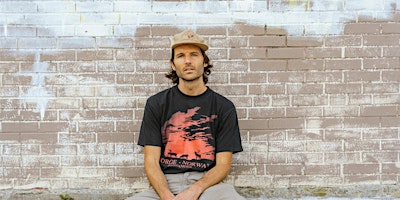 Premier Concerts and Manic Presents:
with Colebert, Was And When
Doors: 7:00 pm | Show: 8:00 pm
All Ages
General Admission Standing Room Only
COVID-19 Policy
Masks are strongly encouraged.
By purchasing tickets to this event, you agree to abide by the State of CT, City of Hamden, Artist, and Space Ballroom's Health and Safety measures in effect at the time of the event. Check back for updates to your event on our website as guidelines and entry requirements are subject to change.
BAY LEDGES
Zach Hurd started Bay Ledges in his bedroom after moving to Los Angeles from a small town in coastal Maine in 2015. It began as an attempt to make fun, creative sounds with no expectation. Chopped up guitar lines, playful beats and manipulated vocals created soulful, glitchy songs with a feeling of nostalgia. The project took off when Hurd's 2016 single, "Safe," jumped to the number three spot on Spotify's Global Viral Chart.
In the years that followed, Bay Ledges toured all over the US and Canada, sharing the stage with such acts as Yoke Lore, Magic City Hippies and The Palms. In 2020 Hurd utilized time off the road to get back to the more personal process of making music - writing, producing and mixing his 2020 EP, New Daze. The result was a more intimate exploration and an evolution of the Bay Ledges sound.
After the release of New Daze, Hurd packed his bags and relocated back to Maine. He explains, "My partner Clara and I were feeling ready for a change from Los Angeles and the idea of returning to Maine, where I'm from, was exciting. There's a lot of nostalgia here from my youth and coming back is like seeing everything with this new perspective."
Hurd is currently working on Bay Ledges' debut album and will be releasing the first track "Changing" on August 27th via his new label Nettwerk. He adds, "I wrote half of the song in Los Angeles and the other half after moving back to Maine earlier this year. Recording while we were staying with friends and renting short term apartments. Among other things, the song's about saying goodbye to a time in your life and relationship, acknowledging your own growth." "Changing" is the first step in a new chapter for Bay Ledges. Stay tuned for more to come.
Links: Official Website | Facebook | Twitter | Instagram | Spotify
COLEBERT
Colebert is the dream pop project of Cole Crawford based out of New Haven, CT. Their latest album "Pirouette" came out May 20. The Colebert band consists of Cole, Justis Hauser, Kevin Loeu, and Austin Nolfi.
Links: Official Website | Instagram | Spotify
WAS AND WHEN
Was And When is a dreamy indie project led by guitarist/vocalist Mike Held channeling subtle sounds of the mid-90s with a heavy twist of modern shoegaze and emo. Having been an active project for only a year, Held has hit the local and regional touring circuit hard supporting his winter EP, All We've Come To Know, and spring single, Hold On. With no signs of slowing down, W&W will be releasing another single, Look Back, this summer with another EP slated for release this fall.
Links: Official Website | Instagram | Spotify