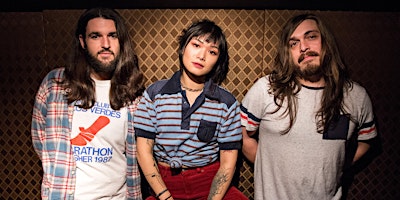 Premier Concerts and Manic Presents:
with Hikes, Gates
Doors: 6:30 pm | Show: 7:30 pm
All Ages
General Admission Standing Room Only
COVID-19 Policy
Masks are strongly encouraged.
By purchasing tickets to this event, you agree to abide by the State of CT, City of Hamden, Artist, and Space Ballroom's Health and Safety measures in effect at the time of the event. Check back for updates to your event on our website as guidelines and entry requirements are subject to change.
COVET
Founded by guitarist Yvette Young with the intention of fusing lush post rock soundscapes with the subtle technical intricacies of progressive rock, Yvette enlisted the help of bassist David Adamiak to form Covet. After playing numerous local shows in Northern California the band released the Currents EP in late 2015. The band toured throughout the west coast building a buzz for their dynamic live show. In 2017 Covet continued to tour and highlighted the year by supporting Polyphia, Jason Richardson tour and followed that up with the Chon, Tera Melos, Little Tybee Homey Tour. Covet just completed dates supporting new label mates Tiny Moving Parts.
Early this year the group entered VuDu studios with Mike Watts (The Dear Hunter, O'Brother, Gates, Dillinger Escape Plan) to record its upcoming sophomore release.
Links: Official Website | Facebook | Twitter | Instagram | Spotify
HIKES
Hikes is a band of friends formed in 2010.
Born out of true friendship and an aptitude for healthy catharsis, Austin's Hikes anchored by the technical, emotive songwriting of Filipinx naturalist Nay Wilkins honors the love found in tight communities. Hikes' upcoming full length, 'Mahal Kita,' is the Tagalog term for "I Love You."
As Nay's mother's native language, the album is dedicated to the unrelenting will to make it through trauma while retaining the empathy and compassion that Nay learned from their Mother, and how Hikes is the vessel for implementing those ideals. The album follows the spectrum of hardships throughout the two years leading up to it and follows suit dynamically: from the ethereal pop opener of the album, reintroducing member Claire Puckett (Mother Falcon), to 'extra mile'; featuring the bombastic technical prowess of long running members Colin Jenkins (Bass) and Chris Long (Drums), as well as marimbas from The Kraken Quartet.
Lilt, the group's previous album recorded in Tokyo with Takaaki Mino (Toe), offers a wealth of interwoven guitar work, dense lyricism, and a pulsing rhythm section. Recounting Wilkins nearly losing their dad, losing touch with nature, memories of a missing best friend, and everything in between, Lilt is experimental indie rock bursting with a humbled hopefulness. The album took the band to a world audience; selling out shows across Japan, Europe, and the U.S. With the original quartet reformed and the band sitting on this new LP, you can expect to see Hikes in one of its many forms coming to a city near you.
Links: Official Website | Facebook | Twitter | Instagram | Spotify
GATES
Here and Now, the upcoming, long-awaited EP from Gates, is the New Jersey band's first release in five years. The EP's six tracks chronicle a period of tumultuous darkness and graceful rebirth, a process that culminates in the EP's titular sentiment: a commitment to the here and now, rather than an endless looking backward, an eternal mourning of the past and what isn't anymore.
Links: Official Website | Facebook | Twitter | Instagram | Spotify