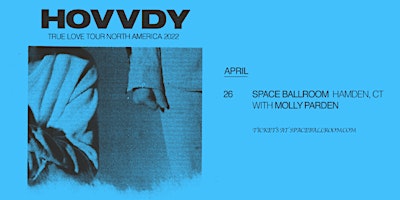 Premier Concerts and Manic Presents:
with Molly Parden
Doors: 7:00 pm | Show: 8:00 pm
All Ages
General Admission Standing Room Only
COVID-19 Policy
COVID-19 Vaccination (14 days past second shot) OR proof of negative COVID-19 PCR test (received within the past 72 hours) required for entry. If vaccinated, please bring your vaccination card or clearly legible photo of your vaccination card on your phone and a valid photo ID. If unvaccinated please bring printed or digital proof of your recent negative PCR test. Masks are required for all ticket holders and staff despite vaccination status. You may pull your mask down when eating or drinking only. These policies will remain in place until further notice.
To present proof of vaccination and/or negative PCR test results on your phone, we've partnered with Bindle, a digital health platform that is secure, easy to use and completely anonymous; your personal health information is never shared and your biometrics are not required. Visit the App Store or Google Play Store and search for "My Bindle." Set-up is free and simple. If you are unable to provide digital proof, physical proof is also accepted.
HOVVDY
Last year, Charlie Martin impulsively wrote T-R-U-E L-O-V-E in all caps across the top of what would become the title track of his and Will Taylor's fourth Hovvdy album. The on-the-nose instinct encapsulates the LP's elemental look at relationships – familial, romantic, friendly – and that desire to capture them in a bottle. Since the creation of their last album, both Charlie and Will have married their partners. Will became a father.
A nod to their roots and a reach for more, True Love maturely embraces the best of the duo's hyper-genuine, chin-up qualities developed over the past seven years. Charlie and Will first met at a baseball game while touring with other bands, both as drummers. Back home in Austin, the pair connected over shared sports-centric upbringings in Dallas and, most prominently, likeminded batches of solo songwriting. The interlocking tracks would become 2016 LP Taster, introducing a comforting sonic push-and-pull continued in the innate melodies of Cranberry (2018) and the propulsive storytelling of breakthrough Heavy Lifter (2019).
Fourth album True Love follows a surprisingly folksy and beautifully determined course, just hinting at the lo-fi layers of the Austin-based project's DIY origins. Co-produced by the genre-morphing Andrew Sarlo (Nick Hakim, Big Thief, Bon Iver), the acoustically-driven, forward-looking songwriters' statement stamps Hovvdy's debut with Grand Jury Music.
Charlie and Will add: "This collection of songs feels to us like a return to form, writing and recording songs for ourselves and loved ones. Spending less energy consumed with how people may respond freed us up to put our efforts into creating an honest, heartfelt album."
Throughout 2020, the band visited Sarlo's small Los Angeles studio to put down their biggest-sounding record yet. Trusted guidance freed Charlie and Will to play to their strengths on essential elements – an upright piano, an acoustic guitar, a few keyboards. Songs harken to the duo's Southern totems of Townes Van Zandt and Lucinda Williams, with longtime collaborator Ben Littlejohn adding pedal steel and dobro for subtle drawl. Will calls True Love "the other side of the coin" from past LP Heavy Lifter's tweaked pop, reflecting instead on the sturdy strums of sophomore Cranberry.
"Sarlo heard things in our individual production styles that we might otherwise feel self-conscious about, but he would lean into them," says Charlie. "We knew we could come in with a very stripped-down acoustic guitar song and it would end up being expansive and vast. I felt really confident in letting this record be as tender and beautiful as we could make it, knowing there would always be a layer of darkness in there."
"Blindsided" embodies the bespoke Hovvdy balance. Charlie's waltzing piano lines and classical bedding make way for punctuated vocal assurances. Will's textured guitar downbeats also softly power syncopated storytelling on "Lake June." Channeling the warmth of new fatherhood, he repeats "I love you so much" at the song's center.
In the exuberant rush of title track "True Love," Charlie references his old Cranberry-era song "Colorful" – a wizened callback to a growing catalog, forever morphing in hindsight. Shaking off any nostalgic haze, the new album's immediate production places their detailed scenes surely in the present. There's flashes of a magnolia tree, a Tom Thumb, a cross on a trailer. "Around Again" frets over the fleetingness: "Memory won't let me take a picture / Turn to me and tell me you'll remember."
"It's about resiliency and appreciating the little moments, even when the big picture can be daunting," says Will. "I'm proud of how we let the songs and the feeling of the record do the work for us. Even in somber moments, the joy behind the music is noticeable, and that's what makes it special to me."
Links: Official Website | Facebook | Twitter | Instagram | Spotify
MOLLY PARDEN
Molly Parden's career in music is something of a mystery—something that happened to her more than it was ever anything she set out to achieve. In spite of a natural middle-child diffidence and reluctance towards the spotlight, it didn't take long for Molly to establish herself as a promethean musical force in Nashville's vibrant underground and beyond. Since relocating from Atlanta to Music City in 2013, Molly has toured the world as a bassist, guitarist, and singer—joining the backing bands of Atlanta's indie songstress, Faye Webster; west coast troubadour Sam Outlaw; and Austin Texas's boozily existential poet, David Ramirez. Though Molly rarely recorded or performed her own songs, the few songs she did release garnered millions of plays on online streaming platforms and a small body of devoted listeners throughout the world.
This year, Molly gives us "Rosemary"— an EP of fragile indie tunes that are as haunting as they are comforting, beautifully raw and yet just out of reach. From the effortless, transcendent melancholy of "Feel Alive Again," to the flirty pop nostalgia of "Who are We Kiddin'," each of Molly's songs enchants the listener with a disarming union of aloofness and intimacy—timeless tunes in a postmodern soundscape.
Links: Official Website | Facebook | Instagram | Spotify