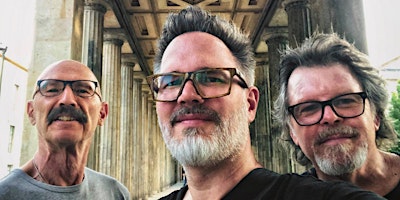 Premier Concerts and Manic Presents:
with Head With Wings
Doors: 7:00 pm | Show: 8:00 pm
All Ages
General Admission Seated With Limited Standing Room In The Back
COVID-19 Policy
Masks are strongly encouraged.
By purchasing tickets to this event, you agree to abide by the State of CT, City of Hamden, Artist, and Space Ballroom's Health and Safety measures in effect at the time of the event. Check back for updates to your event on our website as guidelines and entry requirements are subject to change.
STICK MEN
Tony Levin and Pat Mastelotto, the powerhouse bass and drums of the group King Crimson for a few decades, bring that tradition to all their playing. Levin plays the Chapman Stick, from which the band takes it's name. Having bass and guitar strings, the Chapman Stick functions at times like two instruments. Markus Reuter plays his self-designed touch style guitar – again covering much more ground than a guitar or a bass. And Mastelotto's drumming encompasses not just the acoustic kit, but a unique electronic setup too, allowing him to add loops, samples, percussion, and more. Members of STICK MEN have recorded on albums that sold over 100 million records worldwide and all 4 individual members have played collectively in many different projects in past 5 decades in over 90 countries worldwide.
Links: Official Website | Facebook | Spotify
HEAD WITH WINGS
Head with Wings is an emotionally evocative force in the world of modern progressive rock. They're a band that rides the line between the conceptually ambitious art rock of the 70's and the more immediate alternative rock of the late 90s/early 2000s.
On their current EP, Comfort In Illusion, Head with Wings draws the listener into an isolated, agonizing, and momentarily euphoric struggle for self-actualization amidst the stifling frame of an increasingly unfamiliar world.
The collective's first output since 2018's critically-acclaimed debut, From Worry to Shame, presents a concise summation of the group's collective growth as artists and individuals. Comfort in Illusion dives deeper into the quartet's textural and emotive sound exploration with a timely personal narrative of self-discovery and the anxiety of change.
The Prog Space (UK) had this to say of the new EP: "Bands in 10/20 years from now will be citing Head with Wings as their influence, in much the same way as early Genesis, Rush and Yes are mentioned amongst their peers today 10/10." The DPRP (NL) went on to say: "They have their own style of modern progressive rock and they exploit those abilities of blending alternative rock choruses with odd structures and arrangements, without losing the emotive vibes of the compositions."
In recent years, Head with Wings has shared the stage with bands such as: Between the Buried and Me, Vola, Sleep Token, Voyager, Earthside, Moon Tooth, Bent Knee, Thank You Scientist!, Mile Marker Zero, The Reign of Kindo, Emarosa, Jason Richardson, Smalltape, Soulsplitter and many more.
In 2019, Head with Wings won an Independent Music Award for "Best Rock Song" with "Goodbye Sky." They then went on to tour Germany and play the Euroblast Festival. Most recently, the band played RoSFest 2022 in Sarasota, FL with the likes of Jon Anderson (YES) and Adrian Belew (King Crimson).
Presently, the band is amidst the production of their upcoming sophomore album, slated for release in early 2023.
Links: Official Website | Facebook | Twitter | Instagram | Spotify