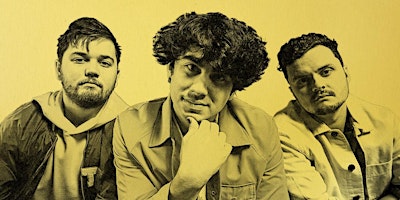 Under The Shade of Green Tour
with Daisy The Great, Phoneboy‎
Doors: 6:00 pm | Show: 7:00 pm
All Ages
General Admission Standing Room Only
COVID-19 Policy
Masks are strongly encouraged.
By purchasing tickets to this event, you agree to abide by the State of CT, City of Hamden, Artist, and Space Ballroom's Health and Safety measures in effect at the time of the event. Check back for updates to your event on our website as guidelines and entry requirements are subject to change.
THE HAPPY FITS
Five years ago, the Happy Fits didn't know they were going to be a band. Now, they're recording their third full-length album, after their 2020 breakout release What Could Be Better.
Turning a love for the Killers and Violent Femmes into their own compact pop songwriting, the New Jersey-based trio started as a casual summer project for high school friends Calvin Langman, Ross Monteith, and Luke Davis before going off to college. After their debut EP, 2016's Awfully Apeelin', took off on Spotify during their first semester, school stopped looking like the natural next step.
"We came up with the title to record those four songs on our EP, and we thought that was going to be it," guitarist Monteith says. "But once the songs got picked up and we really started questioning it, that's when we decided to go for it and record the first album. When we left school was when we officially became a band." Following their 2018 full-length Concentrate, the Happy Fits further honed their ambition for What Could Be Better's collection of crowd-pleasers, which got the band signed to AWAL after being self-released.
"Growing up, I was either in school, at home practicing, or at music school, and there was always this pressure to be really productive," says primary songwriter Langman, who dropped out of conservatory to pursue the band. "When I decided that I wanted to do this for a living, being productive meant a totally different thing, because now I have to create things that are just in my head and make them real. Measuring how productive that is in my life, it's hard to do that. There's a lot of dissatisfaction I feel. I write that into the songs, all of the guilt that I feel for not sticking with a normal plan."
From the stomping "No Instructions" to the album-closing title track, What Could Be Better channels youthful malaise into songs that demand to be sung along to. The irresistible "Hold Me Down" cracked the top 30 on the alternative radio chart and became the album's breakout favorite. Far from cloying, the band's upbeat nature is rooted in a real desire to connect with a world that sometimes seems distant. It's no wonder that NPR Fresh Air's Ken Tucker said that they're "making some of the freshest, catchiest pop music around right now."
On "What Could Be Better" Langman sings, "There's a hole in my consciousness where I feel I belong," a line inspired by his isolation as one of the few Asian-Americans in his hometown.
"I don't have crippling social anxiety, but I have always felt like I'm a bit different," Langman says. "I grew up in rural New Jersey and was one of three Asian kids in my high school...Also, growing up, with Hollywood and TV shows, I didn't see many people like me, especially half-Filipinos."
As the band's stages get bigger, Langman knows he gets to be the role model he didn't have, saying, "It feels really good to be someone that Filipino kids growing up in America could look up to."
Known for their uplifting live shows, the Happy Fits have stayed busy over the past year away from touring by livestreaming performances for fans around the world and making music videos for all 10 tracks on What Could Be Better. They've also been writing and recording a new album, planned for next spring. For now, fans can get a preview on the band's 42-date fall tour of the US.
On "Another Try," premiered on SiriusXM's Alt Nation, the trio reveals a bolder new direction. Inspired by the repetition of quarantine, the song finds the band beaten down but not defeated, holding space for unease without losing sight of their signature optimism. Sure to resonate with listeners, "Another Try" also takes the band into more synth-forward territory, citing White Lies as an inspiration; ABBA and the Cars have also been on their minds. "Cold Turkey" is the sunnier of the two A-sides, with a whistled riff that's impossible to forget.
"A big thing with a lot of these songs, at least the two that we've recorded so far, is coming back to making it feel like it's more of a classic feel, but in a modern take," Davis describes.
"Having the guitars be stacked and huge, sounding like we have a million Marshall cabs behind us and a hundred foot tall cello."
While their headlining tour won't quite have that setup, the Happy Fits are more than ready to step into a brighter spotlight.
​"It definitely feels like it's going to be bigger than anything we've ever done," Langman says. "It feels like the next step for sure."
Links: Official Website | Facebook | Twitter | Instagram | Spotify
DAISY THE GREAT
As Daisy the Great, Kelley Nicole Dugan and Mina Walker make folk-inflected indie rock that spans a multitude of moods—capable of being clever, devastating, or both simultaneously, spanning harmony-laden folk pop to powerhouse indie rock balladry—and has attracted quite the following as a result. With a new single, "Record Player" featuring pop-rock outfit AJR, and a new album on the way, Daisy the Great only stand to grow their audience with their intricate and impossible to resist music.
Kelley and Mina met as acting majors at NYU's Tisch School of the Arts, and eventually bonded during a sketch comedy class where they first connected over their mutual passion for music: "We'd both written music on our own in the past, and we ended up writing this silly song together in that class that clued us into the idea that we might want to collaborate on other projects together as well," Kelley remembers.
After graduating, the pair started writing a musical together about a band. "We got together nearly every day to work on it, and eventually we finished the script and moved on to writing music. When we started to share some songs that we had written individually in the past and rearranged them for the two of us, we immediately felt like we were on to something really special. We'd dreamed up this fictional version of ourselves in a band together and realized that we could just make it happen in real life."
Once they formed their new collaborative & creative bond, the pair set out as Daisy the Great, eventually growing into a 6 piece rock outfit currently featuring Matt Lau on guitar, Bernardo Ochoa on bass, Matti Dunietz on drums, and Brie Archer on additional vocals. They recorded a Tiny Desk Concert submission of "The Record Player Song" in 2017, the same year the single was officially released. "It's about finding yourself during the growing pains of not knowing who you are yet," Kelley explains while discussing the songs' thematic bent, and it's since racked up over 20 million streams and had multiple viral moments on TikTok.
Daisy the Great's debut LP I'm Not Getting Any Taller soon followed in 2019 on Paper Moon Records, a full-length exploration of the anxieties of entering adulthood that also marked the first time Kelley and Mina fully collaborated on an entire release together: "We'd come in with a hook and workshop together," Mina recalls about the album's creative genesis. Since then, Daisy the Great released the quarantine-born Soft Songs EP in 2020, as well as the recent "Persephone" / "Scarborough Fair" single, a two-tracker released on San Fermin member Alan Tate's record label that features the pair's take on the classic Simon & Garfunkel tune. "We're both fans of Simon & Garfunkel and were really inspired to bring a more haunted, harmony heavy, rocky spin to one of our favorite songs," Mina explains.
Then there's the summer 2021 collaboration with AJR, "Record Player," which originated after the band expressed admiration for Daisy the Great's infectious tune: "Jack heard 'The Record Player Song' on TikTok and reached out to us about collaborating on it," Kelley recalls. "We teamed up and went into the studio to write some new verses with AJR to pair with our original hook, and we ended up creating this new song together." Kelley describes the new song as "about identity, imposter syndrome, and trying to free yourself from a version of you that you created - maybe to fit in, or to stand out. But I think that that experimental stage is actually a really important part of getting to know yourself, even if it feels like the stuff you're trying on doesn't quite fit."
Daisy the Great's newest single "Glitter," gives the first taste of the sophomore album they've been working on for the last couple of years, coming out on S-Curve Records in 2022. "'Glitter' is about a night when you can't sleep and you decide to stay up all night long," Kelley & Mina note. "It's about the freedom, and chaos, and magic of being alone with yourself. It's about the courage and compassion of committing to seeing the messy parts of you as beautiful."
It's a freeing thoughtfulness that defines Daisy the Great's music, as well as their creative mission. "Our music is generally pretty introspective, and we are often interested in the complexities or ironies we see within
ourselves" she states. "That's something we love about writing—you can say something small and delicate and true that maybe feels scary to say, but once you put it out there, it can turn into a comfort for anyone that might also be feeling that way."
Links: Official Website | Facebook | Twitter | Instagram | Spotify
PHONEBOY
In an age of hyper-stimulated doom-scrolling and over-polished social media stars, humble Hoboken three piece Phoneboy are all about living in the moment. Singer/guitarists Wyn Barnum and Ricky Dana met at a tiny technical college lacking much of an indie scene. Pulling in Wyn's childhood friend, bassist James Fusco, the three college boys bonded over a love of midwest emo. But while you may find a tinge of that teen angst that comes with youth, Phoneboy are ready to turn up.
Phoneboy's early efforts quickly earned a following on social media. Serving as a de facto street team, fraternity brothers shared the band's breakout, ACID GIRL far and wide. Before they knew it these floppy haired crooners had racked up over a million streams across the web. It's the kind of word-of-mouth buzz that makes you think the internet wasn't such a bad idea. "There's definitely a tension there," says Wyn, speaking to social media. "There's all this distraction, all this fake fun everybody's pretending to have, but at the same time the discovery potential is insane."
Coming of age in a global pandemic, the band sure are sharing lots of experiences. Remote learning has offered them plenty of time to work on their sound; flipping through files on yes, their phones, to piece together bits and bobs of riffs and licks. It's commendable to come off so easy breezy in these uncertain times, but Phoneboy makes it look like no big deal. Their joyous jams and shuffling beats come right on time to get your butt off the couch.
You wouldn't call them old souls, but their youthful exuberance is deepened by an already wisened sense of pop-production and alternative song craft. Pairing a 90's art aesthetic against a fresh clean sound, these phoneboys are ready to bust out beyond TikTok. And with perfectly crafted hip-shaking singalongs like these, maybe we can all take a break from the endless notifications, put our phones done for once, and finally get back out on the floor.
Links: Official Website | Facebook | Twitter | Instagram | Spotify