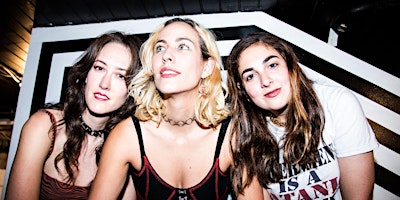 "Happy Now" Tour 2022
with Skating Polly, Bad Waitress
Doors: 7:00 pm | Show: 8:00 pm
All Ages
General Admission Standing Room Only
COVID-19 Policy
Masks are strongly encouraged.
By purchasing tickets to this event, you agree to abide by the State of CT, City of Hamden, Artist, and Space Ballroom's Health and Safety measures in effect at the time of the event. Check back for updates to your event on our website as guidelines and entry requirements are subject to change.
THICK
Since first forming in 2014, New York trio THICK have triumphed at turning the harshest truths into wildly exhilarating punk songs. On their second album Happy Now, vocalist/guitarist Nikki Sisti, vocalist/bassist Kate Black, and vocalist/drummer Shari Page deliver their most complex and confessional work yet, exploring everything from self-sabotage and insecurity to victim-blaming and destructive relationships. Raw, irreverent, and brutally honest, Happy Now ultimately offers both joyful catharsis and much-needed instruction for living well in turbulent times.
"Most of our songs lean toward optimism, even when there's a lot of pain in them," says Sisti, who refers to THICK's output as a "living diary." "It's not about toxic positivity or trying to force yourself into happiness; it's about recognizing that it's okay to feel a whole spectrum of emotions, and then getting to the other side and really growing from your experiences."
The follow-up to 5 Years Behind (a 2020 release praised by Under the Rader as a "dazzling debut album…laced with anger, humor, killer guitar riffs, and soaring punk melodies"), Happy Now finds THICK working again with producer Joel Hamilton (Iggy Pop, Juiceboxxx) and recording at Studio G Brooklyn. In a profound evolution of their previous work, the 11-track album encompasses sharper arrangements and stickier hooks and a more explosive energy—an effect often achieved through the sheer force of their three voices singing in unstoppable unison.
Kicking off with a glorious bang, Happy Now opens on the frenetic urgency of "Happiness": a dizzying yet incisive track that sets THICK's self-reflection to a fantastically breakneck rhythm. "That song's about the different ways we seek validation, and how whether you look for it externally or internally, it's never an easy process," says Black. "In the end, it's about being more aware of where we're trying to find happiness." With its brilliant back-and-forth between riotous shouting and impossibly sweet harmonies, "Loser" arrives as a thrilling celebration of hopeless imperfection, cleverly twisting its closing lyric into an unlikely mantra ("I'll always be a loser"). "Especially in music, it's so easy to feel like a loser and a fuck-up," says Page. "We want people to know that it's okay to mess up and that everyone's a loser sometimes. It's really the best way to live, instead of trying to be number-one all the time." And on "Tell Myself," Happy Now slips into a wistful mood as THICK tenderly impart insight to their younger selves. "As you get older, you sometimes look at your little-kid self and wish you could give them a hug and tell them everything's going to be okay," says Black. "It's not about minimizing life experiences, but a reminder that you're stronger than you think and that—despite what it feels like in the moment—there is a light at the end of the tunnel."
True to the egalitarian spirit of the band, THICK take a highly collaborative approach to their songwriting without ever sacrificing the intimacy of their lyrics. In the writing of the heavy-hearted "Disappear," for instance, Sisti lifted directly from her journal in telling the story of "loving someone who gets lost in their own head, and how painful that can be." Meanwhile, on "Her Chapstick," Page opens up about a struggle in her own relationship. "It has to do with the experience of a partner seeking external affection," she says. "It's about navigating the feelings of why a partner is sharing themselves with someone else when you are right there."
All New York State natives, THICK's three members first crossed paths through shows at Brooklyn's DIY/all-ages spaces and soon became a mainstay in that very scene. Since signing to Epitaph in 2018—and making their label debut with their self-titled third EP the following year—the band has dramatically expanded their reach and toured all over the country, including a 2021 run with punk legends Flogging Molly and Violent Femmes. But even as their fanbase grows exponentially, THICK thrive on forging an uncommonly close connection with their audience. "Getting to share our songs with new people and build community in places we've never been before has been the most fulfilling experience for us," says Black. "We want to leave everyone smiling from ear to ear and get them moving around and hopefully look up at us and say, 'Oh, I can do that. I'm gonna start my own band now.'"
Links: Official Website | Facebook | Instagram | Twitter | Spotify
SKATING POLLY
Fusing elements of alt-rock with classic D.I.Y. punk and indie pop, savvy Oklahoma sibling band Skating Polly found international exposure through rigorous touring, earning both critical acclaim and support of the indie rock scene. Kelli Mayo and Peyton Bighorse formed the group at a young age, with their brother Kurtis Mayo joining in 2017. The band is noted for their alternating instruments among each member, poetic lyrics, intense live shows, melodic arrangements, and an eclectic array of songs. They have released five albums and make over thirty music videos.
Links: Official Website | Facebook | Instagram | Twitter | Spotify
BAD WAITRESS
Bad Waitress' antsy art punk revels in fits of fury and ego. It spits in your face and winks, ferocious and playful. The Toronto-based four-piece play like they're conspiring or casting a spell, each member wielding a different power, howls and erratic drum fills and fiery riffs fueling one another.
That improvisation spirit doesn't stop at their music. Katelyn Molgard, Nicole Cain, Kali-Ann Butala, and Moon finish each other's sentences. Their conversations flow like free jazz. When asked to describe Bad Waitress' sound, they agree on one word: conviction. "We play with conviction. There's nothing apologetic about it," Kateyln says. "Even with our bizarre song structures, we don't hide anything in our music. It's just very...I don't like the word raw, it's overused, but...raw." The band fidget between genres, instead honing a distinct energy. "It's energetic. It's electric," Moon adds. "It's whatever word that we can think of later that's better than raw." Nicole suggests, "Honest?" Katelyn jumps in, "Rawnest."
The path that led them together follows a similar rhythm. Kali (Vocals & Guitar) and Moon (Drums) started jamming as The Nude Dogs back in 2014. Katelyn (Vocals & Guitar) joined two years later, and by 2018, the trio would release their Party Bangers EP under the name Bad Waitress. "It started off small," Moon reflects. "The main premise of the band was that we just wanted to get together and play music with people who weren't old men." When Nicole (Bass) joined in late 2018, things really clicked into place. "We didn't realize what was missing until it happened. Then it was like, this is like what our fucking band was missing this whole time, this extra little piece that made it all make sense."
Bad Waitress' debut full-length album, No Taste, finds strength in mood swings, from upbeat "groovin down the street" songs like "Strawberry Milkshake" to "I'm gonna fucking punch everyone" songs like "Lacerate," as Nicole puts it. "It's good to listen to when you're walking alone at night. I get really anxious, but I feel powerful when I listen to this album, like I'm fucking untouchable. It's basically a self-defense album."
"There's always a 'fuck you' to the man," Kali says. "The album is a rollercoaster. Every song takes you somewhere different."
"We definitely don't run the risk of being pigeonholed with this album," Katelyn adds. "It really does showcase all of our talents individually and how they come together."
"I slipped away into a distant void," the opening track begins. "Rabbit Hole" throws you into a thunderous spiral, riffs ablaze, before "Yeah Yeah Yeah" pummels you down further with its driving guitars, crashing drums, and echoing shouts. By track five, Bad
Waitress take on a slightly softer tone. Or maybe they're just tired: "There's cynicism, battling with vices," Katelyn explains. "We're using past trauma to generate a scathing, badass sound. We're embracing our demons."
Traces of Sonic Youth, Fugazi, Yeah Yeah Yeahs, and The Stooges can be heard throughout No Taste. The band also cite jazz as an inspiration. Moon's background playing improv jazz, blues and swing makes it an essential force, at the core of Bad Waitress' music and collaborative process. "Moon usually has a weird drumbeat that they'll play spontaneously, then Nicole will jump in with her wack ass music sensibility on bass, and then Kali will play something that's super wrong in a good way," Katelyn says. "And then I'll make sense of it and find where the chords are. It's bizarre."
"Our process is a little bit of everything," Kali concurs. "I write the lyrics and usually a standard rhythm for the songs and we go from there, sometimes it comes from a jam."
The closing track on No Taste, "Restless Body," started with a beer bottle sound experiment. "One night, we were jamming at the label and Kali started fucking around with a beer bottle on the neck of her guitar, making all these weird sounds," Nicole laughs. "I was adding Sonic Youth-y bass. Moon came in and it turned from an empty beer bottle into a whole epic. A lot of the collaborative songs come from us dicking around in between practice. We all egg each other on, and a lot of good things come out of that." You can get an idea of the bottle's tinny resonance on the final product, a guitar solo swirling and crying into the outro, "Restless body, take me home."
Links: Official Website | Facebook | Instagram | Twitter | Spotify