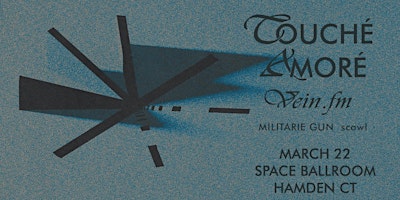 Premier Concerts and Manic Presents:
with vein.fm, Militarie Gun, Scowl
Doors: 6:00 pm | Show: 7:00 pm
All Ages
General Admission Standing Room Only
COVID-19 Policy
COVID-19 Vaccination (14 days past second shot) OR proof of negative COVID-19 PCR test (received within the past 72 hours) required for entry. If vaccinated, please bring your vaccination card or clearly legible photo of your vaccination card on your phone and a valid photo ID. If unvaccinated please bring printed or digital proof of your recent negative PCR test. Masks are required for all ticket holders and staff despite vaccination status. You may pull your mask down when eating or drinking only. These policies will remain in place until further notice.
To present proof of vaccination and/or negative PCR test results on your phone, we've partnered with Bindle, a digital health platform that is secure, easy to use and completely anonymous; your personal health information is never shared and your biometrics are not required. Visit the App Store or Google Play Store and search for "My Bindle." Set-up is free and simple. If you are unable to provide digital proof, physical proof is also accepted.
TOUCHÉ AMORÉ
Touché Amoré has been burrowing through angst, alienation, cancer, and heartbreak throughout four adored studio albums. After over a decade of working through darkness, the band's gorgeously gruff fifth album, Lament, finds the light at the end of the tunnel. Through 11 songs, Touché Amoré looks back at its past and uses hard-won optimism to point its fans toward light, and love.
Last year, the Los Angeles quintet re-recorded its 2009 debut, ...To the Beat of a Dead Horse, to cele brate the decade gone by. It was a straightforward reflection of a time when the band's songs rarely surpassed the two-minute mark and hooks were accidental if existent. A striking contrast to the band in 2020, as their evolution with every step in their oeuvre has lead to this moment. Lament is their masterstroke. Its longer, structured songs soar with a ferocious but delicate musicality and powerful, gut-wrenching storytelling that smashes previous heights. Yet as much as the band has grown and matured via everything they've endured, it's perhaps equally impressive how they've managed to stay true to their core…
"I've always stood by the idea that if you're gonna raise your voice and you're gonna yell," Bolm says, "and somebody is kind enough to listen to you do that—then I would not half-ass anything. I would be as honest as I possible"
The band's critically acclaimed 2016 release, Stage Four, found Bolm mourning and paying tribute to his late mother, which in turn, challenged his emotional bandwidth to converse with an upswell of fans responding with their own stories of grief. Along with the duty of being empathetic, the band had to deal with their own lives. Personal relationships bloom, members' families change either by marriage or fractured bonds. A new president takes office, and personal turmoil turns political.
"I sort of look at this record as a companion piece to Stage Four, in the sense that I'm not writing songs about [my mom] anymore," Bolm says. "But the songs on this record are about what my life's been like since doing that."
Lament captures all of this. A widescreen view at the constant fragility we face as people, as well as, life-after-jarring-trauma that we all must endure at some time or another.
After 10 years together, the band have developed a family-like bond that has enabled them to with stand it all. "When you play music with people for this long, you can kind of anticipate their moves," Steinhardt says. "If I'm writing a song or thinking of a drumbeat, I'm subconsciously thinking of some thing that [drummer] Elliot Babin would play."
Lament marks a number of milestones for the post-hardcore rockers. For one, Nick Steinhardt gets to try out his newly learned pedal steel skills on album centerpiece "Limelight." Four years is also the longest wait between studio albums, but the bandmates found they were still in-sync.
After working with Brad Wood for its past two efforts, Touché Amoré sought to break out of the prover bial comfort zone and get the famously demanding Ross Robinson (Slipknot, Korn, At the Drive-In). Both Robinson and Touché Amoré are known for their trademark intensity, which caused some hesi tancy for Bolm. Ultimately, Robinson agreed to a rare one-song "test recording" last summer, which resulted in the song "Deflector," released last fall. While Bolm remembers how Wood felt almost like a member of the band, he didn't immediately find a mensch in Robinson. Getting out of the comfort zone clashed with straight-up being uncomfortable. Robinson made Bolm read out all of his confes sional lyrics to his bandmates to make sure they understood their emotional content. He also invaded personal space by standing directly next to Bolm in the vocal booth as he sang. Those, along with his other abrasive, hands-on methods, took some getting used to.
"I believe there was an unspoken learning curve between Ross's methods and the understanding that I've poured myself into the words and mean every one of them," Bolm says.
In the end, "Deflector" proved the producer/band combo was undoubtedly the right fit; making Bolm read those lyrics turned out to be what helped make their emotions palpable in the final recording. With its ruminations on the draining human connection ("I'll test the water/I won't dive right in/That's too personal/I'm too delicate"), Lament's first helping is a sharp intro to the album's themes.
The emotional frankness on which Touché Amoré ("Touch Love") stakes its bilingual name makes it self apparent across the entirety of Lament. Bolm has grown from his roots as hardcore kid traveling the world in a van to finding comfort in his longtime partner. As described in the album's blazing open er "Come Heroine," where Bolm publicly declares love and emits this confession: "From peaks of blue/ Come heroine /With open arms you brought down the walls I defend."
It's on "I'll Be Your Host," where Bolm, amid the jangling guitar, grapples with the aforementioned mounting uneasiness that comes with having to connect to fans' pain. With its acerbic slogans ("Pin a black ribbon on/We're the mourning campaign/I didn't ask to lead this party/I explain"), Touché Amoré cuts right through the complexities of being a vehicle for grief as its driver tries to maintain his sanity. In the vein of Bright Eyes' poetic blend of political and personal insight, "Reminders" captures Touché Amoré trying to find some respite amid the constant stream of President Trump's failings. Julien Baker's elegiac backing vocals lends pathos to that desperate search.
Perhaps Lament's biggest point is that Touché Amoré are still human. On "Limelight," the solemn guitar plucks work almost as a solace for Bolm as he works through the deaths of his beloved dogs over the past two years and an understandable outward cynicism. The song also finds him praising his partner for supporting him through it all, and the overwhelming feeling becomes one of hope. "So let's embrace the twilight/While burning out the limelight," he shouts against the climaxing chords. He may still be broken but he's trying, as we all are.
The album's closer ties it all together, as "A Forecast" is fittingly a precise update on Bolm's life. He speaks to the listener as an old friend, perhaps because they are. Where he professes not feeling supported when he needed it most by those he figured would care the most. Mentions his new found love for Jazz, an obsession for the Coen Brothers… Before the song ends, he admits "I'm not sure what I'm after/but it couldn't go left unsaid." The album ends with the confession "I'm still out in the rain/I could use a little shelter/now and then."
Ultimately, the message from Lament? Bolm sums it up best: "That time doesn't heal. That love can nurture. That it's okay to not be okay."
Links: Official Website | Facebook | Twitter | Instagram | Spotify
SCOWL
Hailing from Santa Cruz, CA, hardcore band Scowl has burst onto the scene as one of the most authentic young voices in the genre, influenced by everything from 80s' hardcore, punk and Oi to modern alternative pop. The band has made a name for themselves with songs that are as reflective and dark as they are fun. A new addition to the Flatspot Records family, the label will be releasing their upcoming album How Flowers Grow later this fall. Formed in 2019 and consisting of vocalist Kat, guitarist Malachi, bassist Bailey, and drummer Cole, Scowl came out swinging with their fuzzed-out self-titled demo that same year. Follow up EP Reality After Reality (2019) cemented them as one of hardcores rising star bands to watch, with anthemic tracks like "Retail Hell" quickly becoming staples of their caustic live set. The band has shared the stage with the likes of Terror, Mindforce, Gulch, Zulu, and DARE and have their eyes set on finishing 2021 strong – planning numerous tours and gearing up to release their first full-length.
Links: Official Website | Facebook | Twitter | Instagram | Spotify