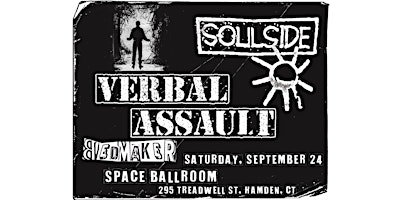 Premier Concerts and Manic Presents:
with Bed Maker
Doors: 7:00 pm | Show: 8:00 pm
All Ages
General Admission Standing Room Only
COVID-19 Policy
Masks are strongly encouraged.
By purchasing tickets to this event, you agree to abide by the State of CT, City of Hamden, Artist, and Space Ballroom's Health and Safety measures in effect at the time of the event. Check back for updates to your event on our website as guidelines and entry requirements are subject to change.
VERBAL ASSAULT
The name of our band is Verbal Assault. We are from Newport, Rhode Island. We played hardcore punk rock with Pete Chramiec on guitar, Christopher Jones singing, Dylan Roy playing bass (Tom Gorman & Darren Mock played as well) and Doug Ernest on drums (Chris Gorman & Nick Barbato also played). The band had its first show in 1984, and its final in 1991. Then 31 years went by. After that, we began to play again in March of 2022. We are rereleasing our back catalog on Atomic Action Records. We are starting to write new songs and going on tour. Come and hear us play.
Links: Official Website | Instagram | Spotify
SOULSIDE
Soulside formed in Washington, DC, in 1985, split up in 1989, then reformed in 2014 and has continued playing and writing music since then. After releasing their debut album on Sammich/Dischord, they recorded Trigger (Dischord, 1988) and Hot Bodi-Gram (Dischord, 1989), which were combined on the Soon Come Happy CD in 1990. The band toured extensively in the US and Europe during these years, including groundbreaking shows in Poland and East Berlin shortly before the Berlin Wall fell in 1989. In 2020, Soulside put out a new 7-inch, This Ship, their first release in 30 years, which was recorded in Prague.
Links: Official Website | Facebook | Instagram | Spotify