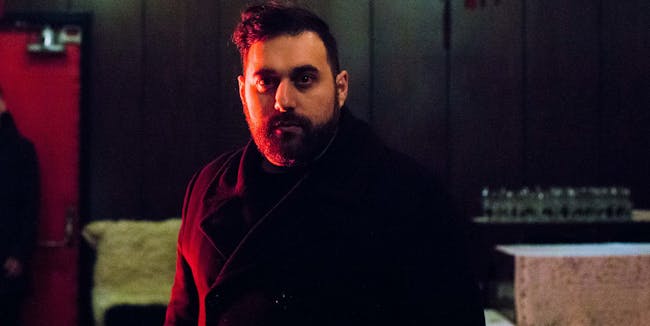 Premier Concerts and Manic Presents:
Ceschi
Phat A$tronaut, Siul Hughes (See All Hues)
$15.00 - $20.00
Sales Ended
General Admission Standing Room Only
CESCHI
On Sad, Fat Luck, their second collaborative full-length, rapper/singer Ceschi Ramos and producer Factor Chandelier have condensed three years of heavy touring, profound loss, and late stage capitalism polemics into a 13-track album.
While driving on the autobahn manically throttled on espresso during a tour with cult rapper Serengeti, Ceschi put on a beat that Factor had sent him out of the blue. Factor has a history of gently nudging a vocalist towards a specific sound he's after, and this was one of those cases as Ceschi found inspiration for the title track flying solo 200 km/h across the German highway.
Sad, Fat Luck was the song, and album, he had to make in the wake of the type of high-grade personal hell that makes you wonder if you're living in a simulation. "They're watching me hang myself for rounds of applause," he laments over a pristine, propulsive Factor beat.
Early in his career, Ceschi's band Toca was signed to Snoop Dogg's management team. He learned a bit about how to navigate cutthroat Hollywood and its bullshit lunches and empty promises. During a meeting with an L.A. agency rep, Ceschi was asked to describe his music concisely. Knowing that the breadth of his influences is too wide to properly digest, Ceschi blurted out something like, "If Kendrick Lamar met Elliott Smith in a psychedelic limbo. If Kurt Cobain's brain blown ghost met Frank Ocean." And the man got it - right away. No talk of Freestyle Fellowship, Neutral Milk Hotel, My Bloody Valentine, Silvio Rodríguez, or the vast, less marketable influential giants to Ceschi.
A student and peer of the '90s California underground scene, Ceschi flips multiple styles and cadences, often moving from chopping verses to spoken word-adjacent raps in the same track. He is also a gifted guitarist, inserting his warm minimalist balladry ("Daybreak") into the tracklist as a sort of palate cleanser amongst heavier, wide-eyed productions ("Lost Touch").
When seven friends die in a seven-month span and you exist in an epoch of normalized tragedy and injustice - calling to mind Drew Michael's notion of depression as a condition where you see the world as it is - where do you turn? For Ceschi, a seasoned indie rap and folk-punk veteran, artistic expression has always kept the gears turning. And Factor has been along for the ride for quite some time now, intuiting Ceschi's heart through dense, bright productions, and coaxing it out of him when it's buried just beneath the surface.
Familiar Ceschi themes of death, depression, and despair are at war with the type of blistering hope and joy that Herman Hesse spoke of in Steppenwolf, the improbable moments of tranquility puncturing the sea of suffering. Ceschi encapsulates this sentiment in concise turns of phrase on "Middle Earth", rapping, "For the minutes we have on this planet we're seeking love, and that's more than enough. Call it what you want. Call it God. Call it your freedom. That connection between living beings is a powerful thing, and that's real to us."
Sad, Fat Luck came together between 2015-2018, conceptualized partly on the road and realized fully in New Haven and Saskatoon studios. Its title comes from a joke photo Ceschi sent to Factor of himself shirtless in a penthouse Jacuzzi above Times Square that was kindly secured for Ceschi under questionable circumstances by a hacktivist friend during a particularly unstable stretch for the musician. Astronautalis and Sammus provided guest verses on the album, while multi-instrumentalists such as Danny T. Levin, Jane Boxall, and Child Actor helped flesh out the overall sound.
"Sans Soleil", a late addition to the record, stands as its emotional core. "This has been an awfully costly trip," Ceschi relays on the chorus, hinting at what he's endured in a lengthy battle with depression and processing loss. The outro features a voice memo from the late producer Sixo, a close friend of Ceschi's and integral part of the Fake Four family, who died in a freak motocross race incident in 2018. Sans Soleil is also the title of a Sad, Fat Luck companion album born out of the Saskatoon sessions set to drop in July 2019.
Ceschi founded a label roughly 10 years ago, at a time when beloved indie labels like Def Jux were folding in response to music becoming "free." He wanted an outlet for him and his friends, and the long road ahead was never viewed as untenable. He grit his teeth, signed artists, made music, booked tours, and continued moving forward amongst shifting terrains. All roads of his past decade have led to this album, and a vocalist couldn't ask for a better co-pilot than Factor. Sad, Fat Luck is suffering as grist for the mill, and the skeletal framework of what that mill can produce when manned by an unflinching sense of hope.
Links: Official Website | Facebook | Twitter | Instagram | Spotify
PHAT A$TRONAUT
Phat A$tronaut is an organically grown, experimental soul ensemble from New Haven, CT.
The band formed shortly after singer/songwriter, chad browne-springer, and guitarist/musical director, Mark Lyon, met on a D'Angelo tribute gig.
Their sound consists of experimental yet undeniably danceable - head nodder rhythms and meticulously crafted arrangements with pop sensible songwriting at the forefront.
In just three years, Phat A$tronaut has performed at some of the north east's top venues including Brooklyn Bowl, Toad's Place, The Warehouse (FTC), Space Ballroom, Rockwood Music Hall, and many more.
Phat A$tronaut has shared bills with such notable acts as OSHUN, Roots of Creation, Five Alarm Funk, Becca Stevens, Rituals of Mine, Jakubi, Underground System, Lyrics Born, Con Brio, Underground System, and Combo Chimbita.
They have also played on numerous festivals including Hip To The Hops (VT), Trinity Hip. Hop Festival, Hygienic Hip Hop Festival, and more.
The band has kept busy through the pandemic with socially distant rehearsals, numerous solo projects, and live streams presented by The Shubert Theatre, UMass, CT Folk Fest, Celebrate Shelton, Travelers Insurance, etc.
To date, Phat A$tronaut has a full length record, 'The Fifth Dimension' (2018), a live album, 'Live at Brooklyn Bowl' (2019), and a single 'Rare Fruit' (2020). Phat A$tronaut is currently in the process of recording another full length album, along with collaborations with Ceschi. Stay tuned!
Links: Official Website | Facebook | Twitter | Instagram | Spotify
SIUL HUGHES (SEE ALL HUES)
It was apparent at an early age that this performer was different. Originally from Bridgeport, CT, Siul Hughes (pronounced SEE ALL HUES) first appeared on stage at the age of five with an impromptu performance of the King of Pop's mega-hit "Bad" - moonwalk and all. Hughes graduated from New Haven's Cooperative Arts High School in 2009. By that time, he'd formed a band, won a radio contest (leading to airplay), participated in and won numerous talent shows - all while working as the manager of a local café. Hughes's proactive demeanor found him attending meetings at a Yale Poetry Club, who eventually invited him in as an honorary member (though he didn't attend Yale) for two years. He independently released Siul Hughes EP project in 2010 on various online sites, with minimal promotion. In 2011, as co-founder of the eclectic hip-hop duo, Decent Men, Hughes performed in numerous venues throughout Massachusetts, CT, and NY, completed an album and one music video. In 2012, Hughes would be featured on the 1952 EP single "If I Ever Leave" alongside New Haven native Joey A.X. & David Joseph. On May 14, 2013, Hughes self-released LASTNAME, HUGHES to generally positive reviews. Between 2014-2015, Hughes would collaborate with New Haven native artists Tea Montgomery and Bless, the Child to form Dry Reign. The trio would throw parties and small concerts to showcase their music in their city. The group would release one group project entitled the OCEAN DRIVE EP, including Hughes single "Comodo", a collection of singles, and one music video. Following several digital collaborations & live shows with both local & touring artists, Hughes would self release the MELODRAMATIC EP, a handful of unfinished songs that were later re-released on September 15, 2016 as part of the full length LP BOOK OF IZA. The album comes with 3 music videos in addition to being the artist's first self-publication of the book of poetry entitled THE BOOK OF IZA: MEMOIRS & MANTRAS. From late 2016 through 2018 Hughes would be booked to perform a number of shows in various states including Massachusetts, Los Angeles, and a short tour run with New Haven artist Ceschi Ramos and LA native Noiserap group Moodie Black. On the 14th of May in 2018, Hughes would self release a 5-track EP entitled FOH, entirely produced by Connecticut native producer WHAT? SPEAK UP!. The month of May 2019 would bring Hughes' back to back projects entitled HATEFEAR(S)LOVE and STOOPKIDwith minimal promotion. HATEFEAR(S)LOVE would be paired with a 30min film entitled HATEFEAR(S)LOVE: The Music Film. Later that month, the 20min mini-doc NONE OF THIS IS NORMALaccompanied the 11 track and 37min record entitled STOOPKID. Both records were primarily promoted through social media. In collaboration with the indie label Fake Four Inc., September 2020 would bring Siul Hughes' first official label releases. The collaboration 7inch vinyl single with Ceschi Ramos entitled DRKWLKR was released September 4th and has one lyric video for its lead single POLTERGEIST. The 13-track full length LP entitled HUEMAN was released on September 15th and has two videos for the singles "INANET" and "WHERE THE HEART IS".

Links: Official Website | Facebook | Twitter | Instagram | Spotify

Venue Information:
Space Ballroom.
295 Treadwell Street

Hamden, CT, 06514