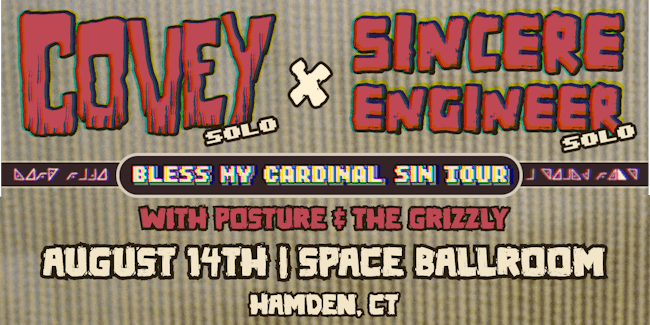 Premier Concerts and Manic Presents:
Covey
Sincere Engineer
Posture & the Grizzly
with Posture and The Grizzly
General Admission Standing Room Only
COVID-19 Policy
Masks are strongly encouraged.
By purchasing tickets to this event, you agree to abide by the State of CT, City of Hamden, Artist, and Space Ballroom's Health and Safety measures in effect at the time of the event. Check back for updates to your event on our website as guidelines and entry requirements are subject to change.
COVEY (SOLO)
Combining often unusual, yet emotionally harrowing lyrics, distinctly raw vocals and an indie-pop sensibility, Brooklyn-based folk-rock project Covey is the creation of British multi-instrumentalist and vocalist Tom Freeman.
Upon relocating to the US and landing in Boston for school in 2010, Covey was eventually conceived and managed to connect to listeners through Freeman's own brand of folk-rock which drew inspiration from artists like Neutral Milk Hotel, The Smiths and Nick Drake. Since then, Covey has gone on to release 2 full length albums which have received praise from publications such as Paste, The Wild Honey Pie, Allston Pudding, All Things Go, PopMatters and The 405, which noted Covey as"one of the more intriguing indie folk rock projects of the past few years." Covey has shared the bill with national touring artists such as Hozier, Briston Maroney, Summer Salt and Vagabon.
Links: Official Website | Facebook | Twitter | Instagram | Spotify
SINCERE ENGINEER (SOLO)
Sincere Engineer is the band for everyone that's ever felt like quitting but gets through it anyway. It's for everyone that has had big dreams lead to feeling disillusioned and cynical, yet find the few hours to play in the sunlight. Bless My Psyche is a collection of vignettes about everyday failures, insecurity, anxiety, and the prosaic things we do to push forward.
Recorded in their hometown of Chicago, with long-time collaborator/producer, Matt Jordan, Bless My Psyche is the follow up to 2017's Rhombithian, and continues to juxtapose hopeful expectations and the disappointment of reality through wry and witty lyrics and catchy indie punk. "I think my music is relatable and I hope it makes people feel like they're not alone" shares singer, Deanna Belos, "I do it because it's fun and I don't want to do anything else."
Bless My Psyche is a dynamic journey into Belos' psyche, one that is in a constant battle between the desire to be motivated to succeed, the daily exhaustion of working life, and the crushing weight of the anxiety of it all. "Trust Me" finds Belos digging her own grave in a cycle of the same mistakes in a defiant punk anthem that serves as the "grand introduction" to the album. "Recluse In The Making" forlornly captures the inevitable self-sabotage as Belos sings, "Ain't it just like me to let my life pass me by, to never once even try."
However, in classic Sincere Engineer fashion, this isn't a depressing album, it just talks about depression. Bless My Psyche is chock-full of songs about drunken debauchery and wild nights that feed the soul, even if it the "hurricane of misery" comes full force in the morning. Tracks like the driving indie anthem "Coming In Last" remains self-deprecating, yet hopeful and wistful for the future. While "Dragged Across The Finish Line" is half about not letting the successes of others demotivate you, and half about recognizing that sometimes you need to help your friends and sometimes they need to help you.
With songs meant to be sung loudly in a sweat-laden, crowded venue, Sincere Engineer has crafted an album for an entire community to hold onto. Bless your psyche.
Sincere Engineer is Deanna Belos
Links: Official Website | Facebook | Twitter | Instagram | Spotify
POSTURE & THE GRIZZLY (ACOUSTIC)
Posture & The Grizzly are punk/emo legends from Willimantic, Connecticut. Originally a solo project created by Jordan (guitar/vocals) in 2008, the band has amassed an ever-shifting line-up from adjacent projects such as TWIABP, For Everest, Prince Daddy & The Hyena, and Cinema Stare. Once categorized as "Blink 182 meets Joyce Manor", Posture exist in a perfect balance of discord & harmony, sharpening their unfettered angst through a melodic lens of infectious hooks. After releasing their first influential LP 'Busch Hymns' & their critically acclaimed second LP 'I Am Satan', the band decided to take a break to bring their focus elsewhere in life, ultimately turning it into a hiatus.

Fast-forward 5 years, Posture played a surprise 'reunion' hometown show, announcing their plans to return with a whole new line-up & new music. In 2021, they released their third self-titled record 'Posture & The Grizzly' to overwhelmingly positive reception. Sticking true to their emo-punk roots while presenting a more matured understanding that's refined itself over a decade, 'Posture & The Grizzly' accurately encapsulates what it means to grow & gives fans the "welcome back" they deserved.

Links: Official Website | Facebook | Twitter | Instagram | Spotify

Venue Information:
Space Ballroom (Front Room)
295 Treadwell Street

Hamden, CT, 06514