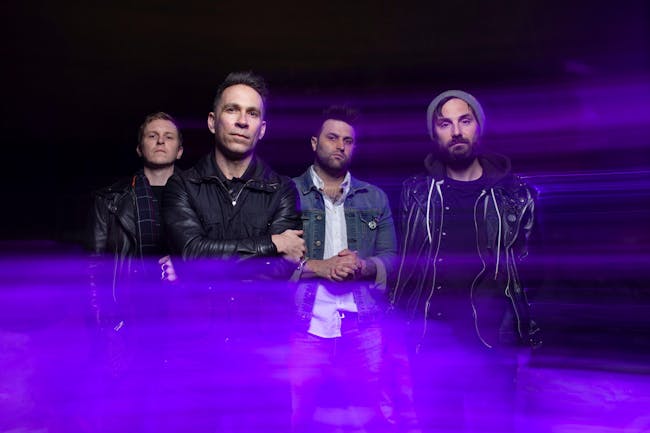 Premier Concerts and Manic Presents:
Forgivers (members of The Gaslight Anthem)
Space Cadet, Chaser Eight
with Space Cadet, Chaser Eight
General Admission Standing Room Only
COVID-19 Policy
COVID-19 Vaccination (14 days past second shot) OR proof of negative COVID-19 PCR test (received within the past 72 hours) required for entry. If vaccinated, please bring your vaccination card or clearly legible photo of your vaccination card on your phone and a valid photo ID. If unvaccinated please bring printed or digital proof of your recent negative PCR test. Masks are required for all ticket holders and staff despite vaccination status. You may pull your mask down when eating or drinking only. These policies will remain in place until further notice.
To present proof of vaccination and/or negative PCR test results on your phone, we've partnered with Bindle, a digital health platform that is secure, easy to use and completely anonymous; your personal health information is never shared and your biometrics are not required. Visit the App Store or Google Play Store and search for "My Bindle." Set-up is free and simple. If you are unable to provide digital proof, physical proof is also accepted.
FORGIVERS
There's been an undeniable synchronicity to Forgivers from the beginning. If you believed in fate, you might even say it was meant to be. It all came about when Alex Rosamilia started talking to bassist Alex Levine about writing music together again, after the decade-plus they'd spent together in The Gaslight Anthem. When that band briefly broke its hiatus to celebrate the 10th anniversary of The '59 Sound, the two Alexes realized how much they'd missed playing together, something Rosamilia told Ed Auletta, longtime guitar tech for My Chemical Romance and the owner of North End Recording, where Rosamilia had recorded his Dead Swords project a few years ago. The two were catching up at bar in Jersey City – back when you could still catch up at bars – when Ed suggested that Jed Winokur, who had fronted New Jersey punk band The Ratchets, would be an ideal frontman. Neither had seen him for a while, but minutes after his name was mentioned, Winokur happened to walk past the pair in the street, which they all took as a fortuitous sign. Once told about the Alexes' new project, Winokur was in. Rounding out the four-piece is drummer and recording engineer Trevor Reddell, who played in Let Me Run, D'Arcy and Dead Swords. It's in Reddell's garage – dubbed 'Forgivers Lodge' – that the four-piece eventually started a socially distant rehearsal once a week, carefully shaping the sound and aesthetic of the band.
'Gothic optimism' is the term Forgivers use to describe both their attitude and their music, and it's at the core of everything they do. Mixing mainly British influences such as The Cure, The Jesus & Mary Chain, The Clash and Oasis, but infusing it with their own unique and distinctive dynamic, Forgivers have struck gold with their sound. They write songs that feel like they've always been there – at once recognizable and familiar, but also fresh and exciting. In other words, it's easy to hear how well all the pieces just fall naturally into place.
The band's first offering will be a double A-side single out in Fall 2021, consisting of the first two songs they wrote – "Flowerseeds" and "Some Future". Both tracks overflow with the magic the band know they've managed to capture, though each represent what Jed calls the "bookends" of Forgivers' majestic, magnificent sound. And while each shimmers with the dark magic of their gothic optimism, the two songs also demonstrate the different levels on which this band can operate. "Flowerseeds" is more vulnerable and tender – "open and positive and innocent and poetic," says the singer – while it's in "Some Future"'s almost psychedelic swagger that echoes of Oasis can be heard.
Since recording those two bookends, Forgivers have been filling the middle between them, building up a catalogue of songs that are as timeless as they are thrilling, and which all four members are visibly, infectiously excited about. They're buoyed not only by the fact they're writing music together that feels so right, but also by the hope that the chemistry they have together can fill a void in the world of rock music – namely intelligent, emotive rock 'n' roll that's inspired by the pain and pleasure and the paradoxes of life.
Links: Official Website | Facebook | Instagram | Twitter | Spotify
SPACE CADET
Space Cadet happened by accident. Friends of almost 25 years, Dave Walsh and Matt Hock had each been writing and recording eerily similar songs, completely oblivious to each other's work. What's all the more surprising is that it wasn't the punk of The Explosion (Virgin, Jade Tree), the band they formed together with friends in 1998. Instead, the music was indicative of other sounds they're into – post-punk, new wave, Brit Rock – not to mention their shared obsession with guitar pedals. From their respective homes of Clinton, Massachusetts and Brooklyn, Dave and Matt have created lush soundscapes ("Forever for a While," "Safe and Sound"), dark synth dirges ("No Accident," "Lose Control") and anxious anthems ("Scream for You").
Links: Official Website | Facebook | Instagram | Spotify
CHASER EIGHT
Chaser Eight has been reborn.

This, after dying an unexpected death in 2016.

After 6 EPs, 5 standalone singles, and an eponymous full length album – the band found themselves without a rhythm section.

It was time to go back to the drawing board and search for new members.

Their search for new members culminated in 2018 with the additions of Brennan DiLernia (bass), Eliav Nachmani (drums), and Jess Wolfer (backing vocals). The trio weren't simply brought on to replace the previous members, however, they were to play a pivotal role in the musical reinvention of the band.

The result is a new sound that's still alternative rock, but markedly different from previous Chaser Eight efforts, with the band's new roster being the catalyst for the change.

Chaser Eight's new sound can be heard on the band's latest album, Tell Me Lies, released on October 18, 2019.

This is the new Chaser Eight – reborn, reinvented, and reinvigorated.

Links: Official Website | Facebook | Twitter | Instagram | Spotify

Venue Information:
Space Ballroom (Front Room)
295 Treadwell Street

Hamden, CT, 06514