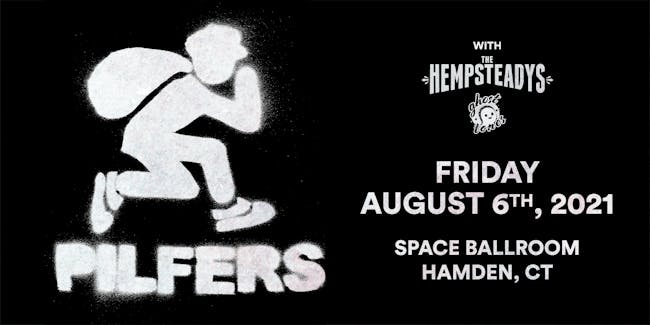 Premier Concerts and Manic Presents:
Pilfers
The Hempsteadys, Ghost Tones
$15.00 - $20.00
Sales Ended
General Admission Standing Room Only
PILFERS
Pilfers are a legendary band out of New York City that play an infectious, unique sound that blends pop, reggae, hardcore, dub, punk, and ska. Their sound, dubbed "raggacore" features the talents of lead vocalist Coolie Ranx, guitarist/vocalist Nick Bacon, drummer James Blanck, bassist Ben Basile, and trombonist/keyboardist Billy Kottage. Pilfers are well known and loved for their intense live performances that encourage constant crowd participation. Followers of Pilfers have been affectionately named "Pilfers Crew."
Formed in 1997, Pilfers has toured internationally with the likes of Bad Brains, Zebrahead, Reel Big Fish, the Specials, Madness, the Mighty Mighty Bosstones, Amazing Royal Crowns, Mustard Plug, and Goldfinger. Pilfers released two albums including a self-titled full-length and Chawalaleng (Mojo Records). In the summer of 2001, the band broke up over various differences. Since 2005, the original line up has come together for several sold out reunion shows along the East Coast for their devoted fans.
In 2013, Pilfers hit the road with Reel Big Fish making new fans across the U.S. and Canada. The strong demand for more from their Pilfers Crew and their love for playing intense live shows has them hitting the road more frequently. Pilfers are currently recording new songs for an upcoming full-length album. Stay tuned for big t'ings to come!
Links: Official Website | Facebook | Twitter | Instagram | Spotify
THE HEMPSTEADYS
The Hempsteadys formed in 2006 on Hempstead Street in New London, Connecticut with a mission to capture the excitement and energy of the punk and ska shows they grew up on. For years they were strictly a live phenomenon, like a young Bruce Springsteen and the E Street Band, often playing until they passed out or the crowd could take no more.
After building a cult following off of their intense live performances alone, The Hempsteadys slowly released their first single in July of 2015. Quickly after the band released their concept album "El Amor de los Muertos" in November 2015, promoting the album with a steady stream of performances throughout the north eastern United States and Canada headlining many stages and sharing others with the likes of Andrew W.K., The Skints, We Are Scientists, Mates Of State, The Toasters, Mephiskapheles, The Slackers and The Aggrolites.
The Hempsteadys last full length album, "Séance! Séance!" was released in fall of 2018 on vinyl and digitally through all major platforms. "Séance! Séance!" stands as the best representation of the band and saw them reach larger audiences off the release of their single "Still Life With Woodpecker". Their latest release is a digital only single covering the Pogues classic "Yeah, Yeah, Yeah, Yeah, Yeah".
"The Hempsteadys [are] a high-energy, fun-centric performance unit whose through-the-roof stage act became an in-demand soundtrack for dozens of New London Saturday nights. Need a party? Find out where The Hempsteadys are playing. Problem solved." - Rick Koster, The Day
"If you like old school ska, boy have we found a gem for you! The vocals are gritty and add just enough 'punk essence ' to keep it from being reggae. The horns (and specifically the saxophone) are all incredible. If it's one thing we thing we need more of in punk music these days, it's more saxophone" - Dying Scene
Links: Official Website | Facebook | Twitter | Instagram | Spotify
GHOST TONES
Ghost Tones is an 8 piece ska/reggae band based out of New Haven, CT and features members from past CT ska bands Distance No Object, Flip Ya For Real, Knightsbridge Fiasco, and Go Hit Dave. Drawing influences from bands such as The Specials, The Slackers and Rancid, Ghost Tones is sure to get you on the dance floor and wanting more!

Links: Official Website | Facebook | Twitter| Spotify

Venue Information:
Space Ballroom.
295 Treadwell Street

Hamden, CT, 06514