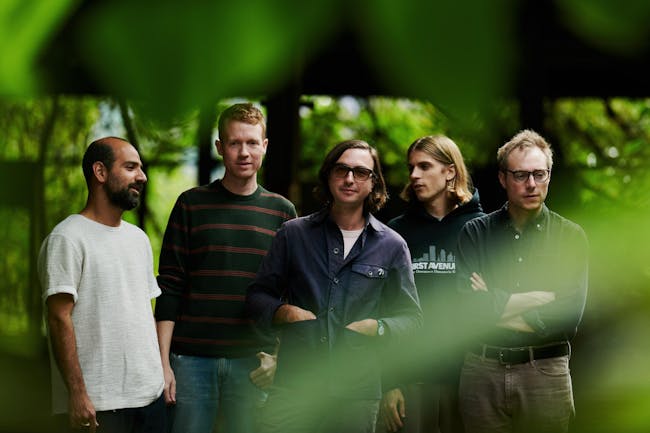 Premier Concerts and Manic Presents:
Real Estate
Kate Bollinger
$25.00 - $30.00
Sales Ended
with Kate Bollinger
General Admission Standing Room Only
COVID-19 Policy
COVID-19 Vaccination (14 days past second shot) OR proof of negative COVID-19 PCR test (received within the past 72 hours) required for entry. If vaccinated, please bring your vaccination card or clearly legible photo of your vaccination card on your phone and a valid photo ID. If unvaccinated please bring printed or digital proof of your recent negative PCR test. Masks are required for all ticket holders and staff despite vaccination status. You may pull your mask down when eating or drinking only. These policies will remain in place until further notice.
To present proof of vaccination and/or negative PCR test results on your phone, we've partnered with Bindle, a digital health platform that is secure, easy to use and completely anonymous; your personal health information is never shared and your biometrics are not required. Visit the App Store or Google Play Store and search for "My Bindle." Set-up is free and simple. If you are unable to provide digital proof, physical proof is also accepted.
REAL ESTATE
Released on March 26th on Domino, Half a Human is a collection of six songs created between two different worlds. While the architecture of each was constructed during sessions for their 2020 album, The Main Thing, the tracks came to life when vocalist/guitarist Martin Courtney, bassist/vocalist Alex Bleeker, keyboardist Matt Kallman and guitarist Julian Lynch began trading the material back and forth remotely throughout the pandemic. They found new ways of working together as they further explored the emotional landscapes they've been perfecting for more than a decade, and in taking stock of themselves and the uncertainty of their future, Half a Human helped them arrive at a new thesis statement for the band.
"Life keeps changing and additional responsibilities and stresses keep being added, but this band is still here," says Martin Courtney. "When I was writing a lot of these songs, I was feeling a little weird about being in a band. Like, 'how is this still a thing?' I was feeling silly about it and then coming around to it at the same time. This is what we're good at and it's what we love to do and want to keep doing. I don't want to do anything else."
"Half a Human" has long been a staple of Real Estate's live set, a loose and epic jam they loved playing in front of a crowd, but Martin Courtney originally wrote the lyrics about the alienation of life on tour. No one could have expected that hanging in cheap hotels and parking lots, wandering overpasses and desolate roads would soon become such nostalgic pastimes, and as a sense of formless uncertainty continues to dominate our days, the disconnect that inspired the song now feels uniquely suited to the current moment.
Since the release of their self-titled album in 2009, Real Estate have become "expert at communicating a particular type of suburban ennui...and fantasizing about life elsewhere" (The New Yorker). Across Half a Human they cement themselves as indie rock lifers, tackling subjects of aging, connection and loss of innocence by focusing on the small moments of complicated, concentrated emotion that come from existing in this world. On "D+" - written and sung by Alex Bleeker - he recalls watching the aftermath of 9/11 from the outskirts of Real Estate's native New Jersey. On "In The Garden," the band reflects on the push-and-pull of the central question asked by the whole Half a Human EP: what does it mean to make art in America while holding on to your roots and pushing yourself into exciting new places?
Released mere weeks before COVID-19 shut down the country in 2020, The Main Thing was praised as "deeply reflective" (NPR Music), "self-questioning and frequently beautiful" (UPROXX), "strikingly more adventurous" (VICE) and "the continuation of a laud-worthy evolution" (Aquarium Drunkard), but the new sounds of Half a Human bridge the gap to the next era of Real Estate. In addition to the EP, the band have stayed as idiosyncratic and creative as ever over the last twelve months, between releasing an augmented reality concert experience called The Quarantour, performing in a refrigerator, covering The Doobie Brothers, Galaxie 500 and Joni Mitchell, raising money for Fair Fight and more.
Links: Official Website | Facebook | Twitter | Instagram | Spotify
KATE BOLLINGER
Kate Bollinger's songs tend to linger well beyond their run times, filling the negative space of ordinary days with charming melodies and smart phrasings. She writes them at home in Richmond, Virginia, letting her subconscious lead sessions on guitar, an open-ended exercise she likens to dreaming. From a chord progression appears a line, maybe a syllable will start to stick, enough to pursue, but she says sometimes they don't even feel like hers, these words, more like shapes that form in the mind's sky. While many are personal and deal with the emotions that surface with finding her place in the world, she'd prefer they be whatever you'd like them to be, to connect with listeners in their own way. Bollinger's musical universe is relaxed, tender, and unassuming; within lives a timeless sensibility, a songwriter's knack for noticing the little things and their counterpoints. Darkness and light, pain and pleasure, reality and escape.

Her project is collaborative; she shoots music videos with her friends and colors each of her folk-pop songs with her band. An agile group of players with backgrounds in jazz, they recorded her first EP, I Don't Wanna Lose, as live takes in a single day, then slowed it down to build out her 2020 EP, A word becomes a sound. Bollinger sings fast at times; she jokes that can get her into trouble when it comes to playing live, "some of these songs are going to be a mouthful." She's always been drawn to singers in that free-flowing style and got into the habit of writing quickly while watching her longtime collaborator John Trainum work with rappers in the studio. Ah

Forced to finish her last EP in lockdown, Bollinger, Trainum, and bandmates excitedly returned to sessions in the spring of 2021 to explore a new batch of songs, the first of which to emerge is "Shadows," written with Trainum and guitarist Chris Lewis. Warm and languid melodies mingle with pointed lyrics; there's an air of mischief sweetened by a surreal, fish-eyed video directed by Bollinger's childhood friend, Kia Wassenaar. "Maybe the last year made me want to hide a little," says Bollinger, referring to the song's abstract nature. Her verses and chorus bounce along stuttered percussion; augmented with swirling flourishes, the arrangement is as much '60s psychedelia as it is beat-infused contemporary pop. Then, with the flip of a switch there is a misty chord change in the final minute and we are sent softly tumbling down a lullaby daydream trapdoor. The outro broadcasts from somewhere softer, the afterglow of self-examination or perhaps the antidote to the introspective sting.

Links: Official Website | Facebook | Twitter | Instagram | Spotify

Venue Information:
Space Ballroom
295 Treadwell Street

Hamden, CT, 06514