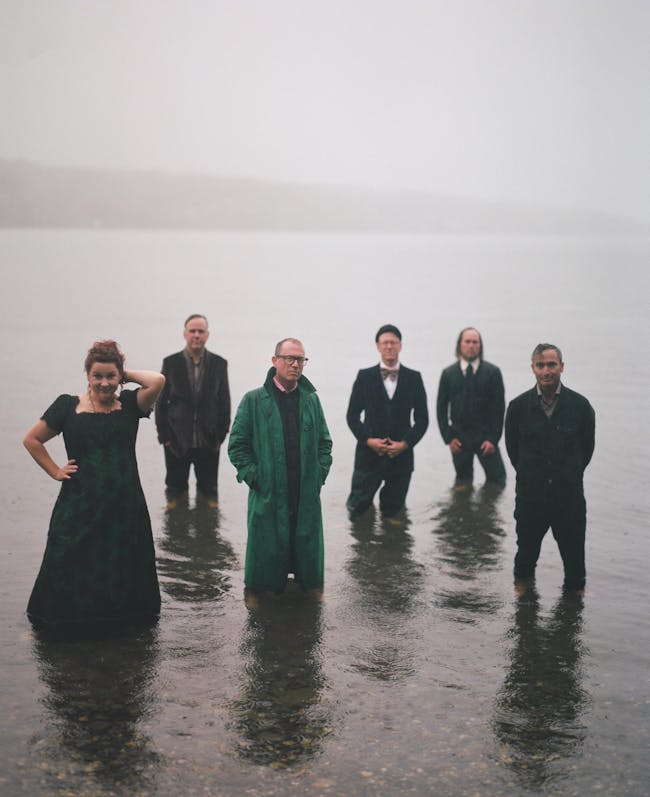 Premier Concerts and Manic Presents:
Stars
Lydia Persaud
with Lydia Persaud
General Admission Standing Room Only
COVID-19 Policy
Masks are strongly encouraged.
By purchasing tickets to this event, you agree to abide by the State of CT, City of Hamden, Artist, and Space Ballroom's Health and Safety measures in effect at the time of the event. Check back for updates to your event on our website as guidelines and entry requirements are subject to change.
STARS
If you Google "Capelton Hill," you won't find much. The search engine will correct and redirect you: did you mean Mapleton Hill? Capelton Hill is a place that somehow still exists outside the grasp of algorithms and internet surveillance, in the rolling green foothills around North Hatley, Quebec. Without people who know the place, it basically wouldn't exist. But those who know it won't know it forever; their times will end, and their knowledge of and relationship to Capelton Hill will end as well.
This includes the members of Canadian band Stars, whose connections to North Hatley trace back to when vocalist Torquil Campbell's grandfather built homes in the area in the late 1800s. For bandmates Campbell, Amy Millan, Chris Seligman, Evan Cranley, and Patty McGee, Capelton Hill is a place where things don't change. The same scrappy chairs sit on the porch year after year, the same ancient stove haunts the kitchen, and old wood boards grow pale under the sun.
But around these things, people grow and age: the years march on, unforgiving, and remind us that like our parents and grandparents, we too will no longer exist here. The impossibly vivid explosions of emotion we feel for these places, which seem like some cosmic, universal force, will disappear.
The new record from Stars is about this place, these relationships, the inevitable decay of them all, and the joy and life that happens in between. It is called From Capelton Hill, a collection of 12 tracks that all, at their root, tie back to North Hatley.
"I guess what From Capelton Hill means to me is from memory, from the past, from a place that seems permanent but isn't, and I think that that sense of impermanence is a big part of what's in the record: realizing that things don't last forever, and that even the things that I thought would be there forever aren't going to be," says Campbell. "Capelton Hill is a place where things in my mind, in my life, they've never changed. And yet it will go."
These hard-won revelations aren't solely the stuff of creeping dread; whether by nature or necessity, they're also coloured on the record with a peaceful acceptance, like watching a world-ending tidal wave cresting and marveling at its magnitude. More than ever, the music on From Capelton Hill feels like a direct channeling of Stars' decades-long pursuit: "This band has always been us trying to navigate what it means to be inside a life that is going to end," says Millan. "And we're getting closer."
The record's cover art tells this story, too. (It marks the first occasion that the members of Stars have been on the cover of a release.) The photo shows the band, dressed to the nines and stern like in an early 1900s family portrait, waist-deep in North Hatley's Lac Massawippi in the pouring rain. The image evinces that which From Capelton Hill will tell listeners: this is Stars at their most courageous and naked.
"What I love about the album," Millan continues, "is that we're chasing the truth of the matter rather than chasing a hook. We're just telling the truth."
The music for From Capelton Hill was composed between Seligman and Cranley over the first half of 2020, and after a first attempt to assemble the record from afar with mixed results, the band convened in Montreal to record with Marcus Paquin and Jace Lasek at Mixart Studios, Lasek's Breakglass Studio, and the band's own space, Zoomer. McGee says that after months of trying to work remotely, once they gathered in a room together, everything clicked—first as friends, then as a working band.
"We're a bunch of fuckin' jokers that get together and play music together, and the emotional spirit of that keeps us going," McGee says. "We always want to be an electronic band, and we always end up being a human band. Those two things always meet."
Campbell agrees: the band's greatest work isn't their recorded output, but the relationships they've built with one another. "Just being together for 20 years is a piece of art in and of itself," he says.
From Capelton Hill begins with tinny dialogue from the 1964 film Seance On A Wet Afternoon : "Your guardian angel has put candles on both your knees; one on each knee." Synths dance across a fading sunset sky before Campbell's voice and McGee's drums swell toward the chorus, buoyed by keys and guitar: "Tell me what the future will be/Take my hands and practice palmistry," Campbell sings.
Lead single "Pretenders" follows, a triumphant, romantic, Thelma and Louise-level commitment to seeing things through, even as the walls close in: "We laid our bets, we made our beds on staying young forever," Millan and Campbell sing in harmony on the soaring indie-anthem chorus. Millan wrote the song's lyrics as a "love letter" to Campbell and the band's origins. "When we wrote all those songs 20 years ago, we were young," says Millan. "That's what being in a band is: you're putting down your chips on feeling young and being young. It doesn't necessarily work out because time does its thing."
"Obviously, we lost that bet," says Campbell. "But we are young in the moment of singing it. That's the incredible thing about music: you are young in the moment of singing that line, even if you're 80."
Elsewhere, "That Girl" is a gentle synth lament, with Millan mourning the person she was, which time has taken from her. "My body is changing so much, your face changes with age, the people that I look at across the stage from me look different," says Millan. "There's already something you've lost just in time passing."
The record closes on the tender, acoustic "Snowy Owl," with Millan and Campbell swapping verses and twinning each other on the choruses. It might be the final chapter in the long, winding book that the two have been writing for decades, about two characters that continue to try to be together but keep destroying one another. Campbell says the song is the epilogue to their stories. "I don't know what comes after," he says. "I just make records about other people and in the end, they turn out to be about me."
In the end, From Capelton Hill is about a group of people who have spent more than 20 years together, and who have now started to face the awful, necessary calculus that each human eventually must do: when will all of this end? The lyrics of "Capelton Hill," in its bittersweet, end-of-season farewell to the ramshackle house in North Hatley, offer a useful equation: "Close up the house for one more year, wave to the lake and drive away/That feeling in your chest, it isn't fear, it's just the passing of the day."
Links: Official Website | Facebook | Twitter | Instagram | Spotify
LYDIA PERSAUD
Lydia Persaud brings a full spectrum of emotion to her latest album, Moody31. Shimmery runs fall alongside precise enunciations that slightly quiver on pitch. A singer with daring range, she stretches words - subtly melismatic, smooth, slantly gospel - to their full emotional capacity. Set for release in April 2022, her sophomore record remodels a multitude of influences into a dynamic and harmonious original. Described by producer Scott McCannell as "Roberta Flack sitting in with Bill Withers' band at a folk festival," Moody31 recombines jazz, R&B, and folk stylings to create soul music in its most literal sense.

It's tempting to want to deconstruct her amalgam into its distinct parts, tracing each track's reference points and divergencies. On 'Let Me Be There For You,' homage is paid to the beautifully haunting background vocals of Motown legend Mavin Gaye, while the ukulele fingerpicking on 'Think Of Me' is approached with the lyrical sensitivities of a storyteller. Without fidelity to a single source of inspiration, Persaud's arrangements are kaleidoscopic: layered sounds that mimic the prismatic moods of the album. It's here that brokenness, loss of identity, and glorified independence commingle with self-assurance, acceptance and new beginnings.

Persaud's silvery and ripe vocals glide over Christine Bougie's whispery guitar lines on 'Good For Us,' an opener that celebrates the importance of space and self-reflection in relationships. 'I Got You' is a bouncy love-letter to oneself, while 'Words for Her' is fraught with the anticipation of saying 'I love you' for the first time in a blossoming romance. This is a summer album, with Persaud's honeyed tone warming each track, but one that complicates the expected feel-good nature of the season. Imagine riding your bike through the city on a near-perfect July day, on the heels of a recent heartbreak.

The title track is a surprising instrumental strip-down: diminished and major 7th chords coast alongside lush yet anguished vocals. The effect is a deep vulnerability crossed with absolute self-possession. It's these antithetical desires that cut to the core of Moody31: to love and be loved without losing oneself in the process.

Persaud met producer and bassist Scott McCannell of Safe Spaceship Music in 2019. "Scott and I shared the same desire to create something new while preserving the classic warmth of the 70s soul and jazz sounds we love." The two began compiling a collection of demos that eventually became Moody31. "The baritone ukulele was the foundational instrument I used to write the record," Persaud says. "I would teach Scott a new song, and, to avoid perfectionism, we would record a rough demo while the song was loose and fresh." With all the bed-tracks recorded in one room, the songs have a live, jazz-combo quality. Kyla Charter and James Baley's backing vocals are full of disco-esque call-and-response, while Chino de Villa's steady drums lend heartbeat from start to finish.

A fixture of Toronto's music community and a sought-after collaborator, Persaud has had a colourful decade performing to small clubs with her jazz project (2012 - 2016), to crate diggers with The Soul Motivators (2011-2015), to folkies at festivals with The O'Pears (2013-2019), and to rock nostalgics with Dwayne Gretzky (2017-present). She's shared the stage with Lee Fields, Richard Bona, David Crosby, Gordon Lightfoot, Jackie Richardson, Divine Brown, and Justin Nozuka, among many others. She's also a member of the Queer Songbook Orchestra, and host of the upcoming docuseries, New World Beat.

"After ten years of playing music, I'm beginning to bring my multiple experiences into what I'm doing. I make music to honestly connect with others who might feel the same way. I hope Moody31 celebrates and validates the human experience in all its contradictions: how new love can be experienced alongside deep loss, how one can crave solitude and connection, simultaneously. It's beautiful to embrace all of our moods - it's living."

Links: Official Website | Facebook | Twitter | Instagram | Spotify

Venue Information:
Space Ballroom
295 Treadwell Street

Hamden, CT, 06514