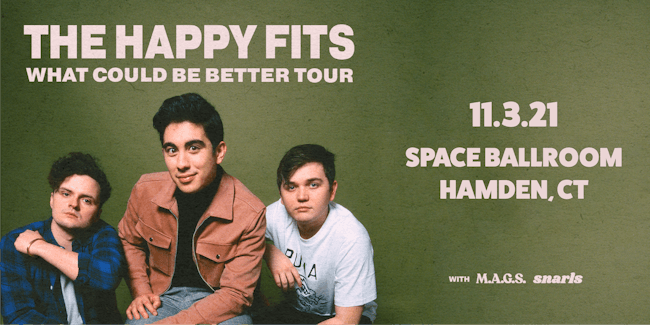 General Admission Standing Room Only
THE HAPPY FITS
The Happy Fits are a New Jersey trio featuring guitar, drums and cello. Rock critic Ken Tucker says these young men who met in college and formed their band just a few years ago are making some of the freshest, catchiest pop music around right now. The band's new album, its second, asks the musical question, "What Could Be Better."
Links: Official Website | Facebook | Twitter | Instagram | Spotify
M.A.G.S.
M.A.G.S is the solo moniker for Elliott Douglas, indie rock artist/multi-instrumentalist.
Originally from Buffalo, NY, the musician released his self-debut record in 2017. M.A.G.S included the well-acclaimed track "Drugs" which garnered over 5 millions streams on Spotify.
More recently, the LA-based artist released his 4-track EP titled Lost Tapes, with the bonus track "Gaslighter".
"I try to make music that cuts through the noise, brings you comfort when you need it, reminds you of memories both fond and not...I want to give my fans something to attach their feelings and memories to," he says.
With a brand new album on the way, M.A.G.S is continuing to create feelings and memories through his authentic records.
Links: Official Website | Facebook | Twitter | Instagram | Spotify
SNARLS
Snarls spent 2019 quietly blooming—two songs landed this Columbus, OH four-piece on Stereogum's Top 100 Songs and Best New Bands honor rolls. 2020 is the year they blossom into a band to watch. Debut LP Burst finds the next charming coming-of-age story in shimmering character drama (2019 standout "Walk in the Woods"), woozy indie-pop ("Hair"), and blue-eyed existentialism ("Concrete"). Snarls' songwriting is as unfiltered and spectral as growing into one's own should be, but it promises just as an enchanting listen for those outside looking in.

Though their Bandcamp descriptor "glitter emo alt rock" is apt, the power of Snarls lay in their heart. Not their crushes or their friendships, though they're plenty fine in themselves, but in the way they sing their dream-pop choruses. - Stereogum

Columbus, Ohio's snarls describe themselves as a "glitter emo alt-rock" group. "Walk In The Woods" leans more on the latter half of that descriptor but is more than enough to get you excited about their upcoming debut, Burst.- Fader

Featuring lovelorn dual vocals over dreamy, reverb-soaked guitars, it mixes the best of emo and shoegaze into a powerful package with a sing-along chorus that confesses "I can't quit you, baby! No matter how hard I try!" Like, what more could you want?- MTV

Links: Official Website | Facebook | Twitter | Instagram | Spotify

Venue Information:
Space Ballroom.
295 Treadwell Street

Hamden, CT, 06514