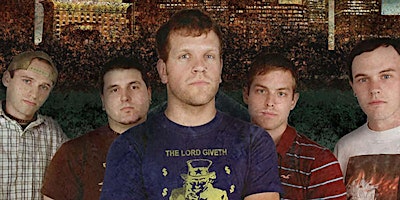 Premier Concerts and Manic Presents:
with Life In Your Way, Shai Hulud, After The Fall
Doors: 6:30 pm | Show: 7:30 pm
All Ages
General Admission Standing Room Only
***In the interest of public health, With Honor has decided to POSTPONE their two shows at Space Ballroom on Thursday, October 7th and Friday, October 8th to Friday, May 20th and Saturday, May 21st.
Those who have tickets for Thursday 10/7 will have their tickets honored for the Friday 5/20 show, and those who have tickets for Friday 10/8 will have their tickets honored for the Saturday 5/21 show. You may not exchange your tickets for another date.
A message from the band:
"When we booked our CT shows, we were hoping that Coronavirus would be behind us, but unfortunately that is not the case.
Nobody is more bummed than us but we'd rather be able to perform in an environment where all the bands and attendees are 100% comfortable. We are also hopeful that there will be no travel restrictions in place at the time of the new dates which will be Friday, May 20th and Saturday, May 21st. All tickets will be honored and there will be a 30-day refund window.
Stay safe, hope to see you then! -WH"***
COVID-19 Policy
Masks are strongly encouraged.
By purchasing tickets to this event, you agree to abide by the State of CT, City of Hamden, Artist, and Space Ballroom's Health and Safety measures in effect at the time of the event. Check back for updates to your event on our website as guidelines and entry requirements are subject to change.
WITH HONOR
Formed in 2002, Connecticut's own With Honor quickly proved their place in the hardcore and punk scene with their self-titled EP (recorded by Adam Dutkiewicz of Killswitch Engage). Featuring a unique blend of melody and aggression, the band also gained notoriety for their meaningful lyrics and positive message. They immediately hit the road, planting themselves on any stage that would have them.
They soon caught the attention of Jamey Jasta's Stillborn Records, who signed them for a proper release of the EP, along with a full-length record, Heart Means Everything (2004). Recorded by Kurt Ballou at God City Studios, the album featured aggressive vocals, catchy singalongs and music, and a hardcore-punk ethos. HME cemented the group's place in the hardcore scene, propelling them onto tours with Stretch Armstrong, H2O, Comeback Kid, Bane, Hatebreed, Shai Hulud, and Sick of It All, among others.
With Honor continued their relentless touring, often playing over 200 shows a year. They went on to release a split record with Connecticut's The Distance, as well as a full-length album, "This Is Our Revenge", on Victory Records in 2005.
Their music is not only an ode to the old-school, traditional and post-hardcore bands that inspired them, but a rousing challenge to anyone who will listen to stay true to their beliefs, hold one another up, and challenge the world's disparities.
After 8 years, With Honor is ready to hit the stage once again, playing Furnace Fest in Alabama in September, before returning to their origin state of Connecticut for a hometown reunion!