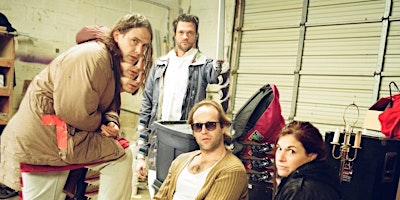 I Know You Tour 2022
with Tchotchke, Sean Henry
Doors: 6:30 pm | Show: 7:30 pm
All Ages
Premier Concerts and Manic Presents:
General Admission Standing Room Only
COVID-19 Policy
Masks are strongly encouraged.
By purchasing tickets to this event, you agree to abide by the State of CT, City of Hamden, Artist, and Space Ballroom's Health and Safety measures in effect at the time of the event. Check back for updates to your event on our website as guidelines and entry requirements are subject to change.
BRONCHO
BRONCHO return to the road for the first time in three years with the I KNOW YOU TOUR 2022 where the Oklahoma band - Ryan Lindsey, Penny Pitchlynn, Nathan Price and Ben King - will be performing songs from their landmark first four albums; the catchy, playful vibe of Can't Get Past the Lips (2011) and Just Enough Hip to Be Woman (2014) as well as the deliberate sonic intent of 2016's sludgy, moodier art piece Double Vanity and of course, and perhaps the most critically-acclaimed album in the quartet's decade-long career, Bad Behavior (2018); with its fan faves and urgent, bonafide pop songs, "Sandman," "Boys Got to Go," "Get in My Car" and "Keep it in Line." Broncho crafts sing-along anthems that combine punk and garage-rock. You could make all the likely comparisons to punk bands of the '70s — Ramones, Iggy Pop and The Stooges — or even bring up the new-school garage-rock undertones of The Strokes and The Strange Boys. But that would sell the band short. If anything, it combines the best elements of both genres: raw guitar chords and energy, plus DIY sentiment, but with hi-fi production. Their pop sensibilities create a world where T. Rex, Tom Petty and The Cars collide.
Links: Official Website | Facebook | Twitter | Instagram | Spotify
TCHOTCHKE
Tchotchke is Anastasia Sanchez (drums, vocals) and Eva Chambers (bass, vocals) and Emily Tooraen (guitar, vocals). As teenagers, Sanchez and Chambers both played in Los Angeles' indie-darlings Pinky Pinky and recorded for the Innovative Leisure label. Now all grown up, at the ripe old age of 23, the NYC-based trio ushers in a new era with a new band name, home turf, line-up and of course, music.
The band's debut singles, "Dizzy" and "Ronnie" were recorded on Long Island at Brian and Michael D'addario's (aka The Lemon Twigs) home recording studio. The Twigs produced the tracks and they're the first of many recordings made with them. Tchotchke filmed the "Dizzy" video in Super 8 with help from friend Hilla Eden. The video features Anastasia, Eva and Emily, in a bloody boxing match cut with additional performance shots from inside the ring. The video co-stars Chambers' grandfather "Papi" as the ring card man. It was shot at Heavy Hitter Gym in Jersey City, New Jersey. The gym's owner Big J gave the band a boxing lesson before the shoot.
Links: Official Website | Facebook | Twitter | Instagram | Spotify