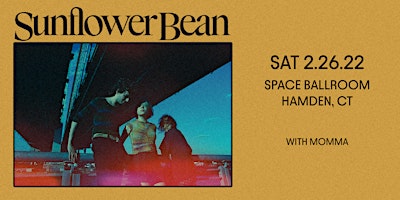 Premier Concerts and Manic Presents:
with Momma
Doors: 7:00 pm | Show: 8:00 pm
All Ages
General Admission Standing Room Only
Due to scheduling conflicts, Sunflower Bean has decided to postpone their December shows to February of 2022.
Their performance at Space Ballroom will be on Saturday, February 26, 2022.
If you cannot attend this newly rescheduled date, you may request a refund any time before December 11, 2021 at 12PM EST.
COVID-19 Policy
COVID-19 Vaccination (14 days past second shot) OR proof of negative COVID-19 PCR test (received within the past 72 hours) required for entry. If vaccinated, please bring your vaccination card or clearly legible photo of your vaccination card on your phone and a valid photo ID. If unvaccinated please bring printed or digital proof of your recent negative PCR test. Masks are required for all ticket holders and staff despite vaccination status. You may pull your mask down when eating or drinking only. These policies will remain in place until further notice.
To present proof of vaccination and/or negative PCR test results on your phone, we've partnered with Bindle, a digital health platform that is secure, easy to use and completely anonymous; your personal health information is never shared and your biometrics are not required. Visit the App Store or Google Play Store and search for "My Bindle." Set-up is free and simple. If you are unable to provide digital proof, physical proof is also accepted.
SUNFLOWER BEAN
Sunflower Bean is an indie rock trio out of NYC. Formed in late 2013 with singer/guitarist Nick Kivlen, singer/bassist Julia Cumming, and drummer Jacob Faber — all in high school at the time — they quickly earned attention for their alternately rock-edged and dreamy guitar tunes, after their first EP, Show Me Your Seven Secrets, arrived in January 2015. Later that year they were invited to open on tours for the likes of DIIV, The Vaccines, and Best Coast.
Their debut album, Human Ceremony, was issued by Fat Possum in early 2016. They toured Human Ceremony internationally for the next year and a half, playing heavily in the UK, Europe, Japan, and China. In 2017, they were the direct support for both the Pixies and Wolf Alice.
The band also managed to find time off in their hometown of NYC to write and record their sophomore album, Twentytwo in Blue, which was co-produced by Unknown Mortal Orchestra's Jacob Portrait and Matt Molnar (formerly of Friends). Twentytwo in Blue was released on March 23rd, 2018 via Mom+Pop Music and Lucky Number Music, almost exactly 2 years and 2 months from their debut album. All members were 22 years old when the record was created and released. Twentytwo in Blue debuted at #39 in the UK's TOP 40 Album Charts and #16 on Billboard's Independent Album Charts.
In early 2019, the band released a new EP, "King Of The Dudes" which features BBC1's Hottest Record In The World, "Come For Me". They recorded the EP in LA during the summer of 2018 with producer Justin Raisen (Charli XCX, Angel Olsen, Sky Ferreira). "Come For Me" has become the band's first single to chart in the US. It debuted at #37 in Billboard's Triple A Rock Chart.
Links: Official Website | Facebook | Twitter | Instagram | Spotify
MOMMA
The budding grunge four-piece Momma has always relied on songwriters Etta Friedman (21) and Allegra Weingarten's (22) symbiotic writing style and creative intuition. "I remember the title, Two of Me, originally came from this creative day Etta and I were having together," Weingarten recalls. "Etta said something like, 'It's crazy —being alone with you is like being alone with myself.' It references that feeling and encapsulates how we write together: a form of communication, where we'll constantly switch off who is playing lead and who is playing rhythm guitar in the same song."
Self-taught guitarists who grew up outside of Los Angeles, Friedman and Weingarten met by fate in high school and eventually began writing songs together. The pair's close friendship provided an open channel to create and experiment from a place of trust and joint experience. Inspired by songwriters like Kim Deal, Liz Phair, and Elliott Smith, the two developed a knack for dynamic song structure and gripping lyrics fused by a dulcet pop sensibility. Much like the two fish that depict Friedman and Weingarten's birth sign, Pisces, the duo is locked in an infinite loop, constantly feeding off of one another's musical ideas.
Although the pair now live far from home and each other while finishing college in New York and New Orleans, Friedman and Weingarten have continued to write the same way they always have. For the past two years, during breaks between semesters, the two would assemble DIY west coast tours, open LA dates for bands like Gang of Four and Ian Sweet, and workshop new songs together at home. Decorated with bright interlocking guitars, confident harmonies, and vivid storytelling, the band's debut album Interloper and recent Apollo 7" capture Friedman and Weingarten hitting a stride at the end of their adolescence, while establishing a sound and vision that the band continues to expand upon. Friedman and Weingarten began building a more focused and detailed world in the material they started to write for their second full length. Over the course of several writing sessions —often months apart —the two
wrote one song after another, slowly piecing together the story of an alternate reality they called "The Bug House."
Two of Me is an ambitious concept album made up of fictional vignettes dealing with morality, youth, and punishment, that Friedman and Weingarten have populated with tragic heroes from their imagination. "The Bug House represents this sort of underground purgatory or hell that people are sent to as punishment," Weingarten explains. "Two of Me's songs are about coming to terms with the side of you within yourself that is maybe capable of darker things." Momma's second full length unfolds like a small-town drama, where characters like video stringers and young lovers experience poetic justice in carnivalesque settings, detailed through Friedman and Weingarten's illustrative lyrics. "It's cool to have this world to go to that just belongs to Allegra and I, that we can both work on and revisit while we're living in separate places," Friedman notes. "Having a larger concept that's not rooted in reality made it a lot easier to work on together from a far. The album is rooted in a lot of real feelings and experiences, but we wanted the stories to be set in a fictional world."
Two of Me was recorded in Los Angeles with producer/engineer Aron Kobayashi Ritch, who bolstered Friedman and Weingarten's desire to experiment with deeper and more distorted sounds, along with drummer Zach Capitti Fenton and bass player Sebastian Jones, who made up the rhythm section for most of the album's tracks. Two Of Me's opener "Bug House" sets the stage for the record, with its expressive guitar tones and brooding mood. The album's more abrasive moments like "Derby," which alludes to the anxiety of a Jockey in a fixed horse race, are balanced by melodic ballads like "Double Dare," which follows a romantic pair pining for a world away from their violent hometown. "Biohazard" features some of the album's most grotesque diction ("Crushing cartilage. Binding on a binge. Fucker is a freak, baiting this barbarian") sang in unison to tell the story of a troubled individual struggling with Dissociative Identity Disorder, and the evil/remorse that co-exist within him. Friedman and Weingarten each step into a lonely spotlight on their respective solo performances "Ready Runner" and "Not a Runner," which feature tender instrumentation and introspective lyrics.
Two of Me's climactic closer "Habitat" doesn't offer resolution for the album's protagonists, but instead uses the moment to take in the complex beauty of life and the landscape, before releasing a final deafening exhale. Despite Friedman and Weingarten's many similarities, their creative compatibility on Two of Me is fueled by their appreciation for each other's differences. The songwriters' personal tastes and intuitions are valued and explored by one another equally, allowing the pair to make a record that feels both familiar and intriguing. Like a yin & yang symbol, Friedman and Weingarten understand that nothing is made up solely of light or darkness and confronting each part of yourself is the first step to seeing the whole picture.
Links: Official Website | Facebook | Twitter | Instagram | Spotify