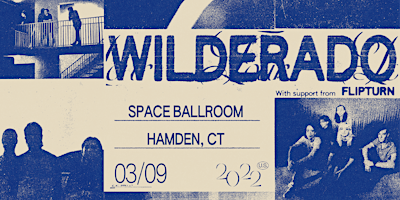 Premier Concerts and Manic Presents:
With flipturn
Doors: 7:00 pm | Show: 8:00 pm
All Ages
General Admission Standing Room Only
COVID-19 Policy
COVID-19 Vaccination (14 days past second shot) OR proof of negative COVID-19 PCR test (received within the past 72 hours) required for entry. If vaccinated, please bring your vaccination card or clearly legible photo of your vaccination card on your phone and a valid photo ID. If unvaccinated please bring printed or digital proof of your recent negative PCR test. Masks are required for all ticket holders and staff despite vaccination status. You may pull your mask down when eating or drinking only. These policies will remain in place until further notice.
To present proof of vaccination and/or negative PCR test results on your phone, we've partnered with Bindle, a digital health platform that is secure, easy to use and completely anonymous; your personal health information is never shared and your biometrics are not required. Visit the App Store or Google Play Store and search for "My Bindle." Set-up is free and simple. If you are unable to provide digital proof, physical proof is also accepted.
WILDERADO
Formed in the California mountains, but originally hailing from Tulsa, OK, Wilderado have been steadily building a passionate fan base and defining who they are since 2015. When they first came together, Maxim Rainer (lead vocals, guitar), Tyler Wimpee (guitar, vocals) and Justin Kila (drums) spent a summer in Latigo Canyon, a secluded part of Malibu, with longtime Sufjan Stevens collaborator James McAlister, immersing themselves in writing and recording. Those songs went on to form early EP releases with tastemaker indie labels IAMSOUND and National Anthem, which garnered more than 100 million streams, but more crucially provided the backbone to years of touring.
Following initial recording sessions at their one-time home and creative space named "The Misty Shrub" (the title of the first EP) in Latigo Canyon (the title of the second EP), the band returned Tulsa to base themselves from their hometown. Since then, they've crisscrossed the USA a half dozen times playing with artists as diverse as Lindsey Buckingham and Christine McVie, Mt. Joy, and Rainbow Kitten Surprise, and have performed on the main stage at such festivals as Lollapalooza, Bottlerock and Austin City Limits.
Some time off from the road in 2020 meant that the band were able to focus on completing their debut eponymous LP. Working with producers and friends James McAlister (The National, Sufjan Stevens, Taylor Swift), Chad Copelin (Broncho, LANY) and Angelo Petraglia (Kings of Leon) the record is slated for release on October 15th 2021 via Bright Antenna.
Maxim explains, "Making new music is the most fun part of being in a band. It gives you a future, it gives you something to look forward to, it gives you something to work on, something that hasn't already been decided. There's always a sense of hopefulness in new music. Once you've finished something, then you've done your job which is to give the world something it didn't have before. That's a special feeling, something I'm really proud of."
The new single, "Head Right," is the first taste of what's to come and shows the ambition and intent of a band on the up. A moment that shows confidence and a rambunctious slice of rock n' roll that builds on what Wilderado does best: the confluence of soaring melodies and lush three-part harmonies. The staple Wilderado sound. Something they have spent the past five years refining and perfecting - now is their time.
Links: Official Website | Facebook | Twitter | Instagram | Spotify
FLIPTURN
There is nothing held back while flipturn is performing. The chemistry and talent shared between the bandmates allows for a total release of inhibitions, and their songs are written in an artfully understandable way that makes flipturn the storytellers for a generation of people who were never told what to do next.
The flipturn roll call is Dillon Basse (lead vocals/rhythm guitar), Tristan Duncan (lead guitar), Madeline Jarman (bass), Mitch Fountain (synth), and Devon VonBalson (drums). Fans are drawn to the rarity of both strong female and male presences within the band that foster a sense of inclusion in the musical experience. The fever dream energy of their live shows has positioned flipturn as a metaphorical musical sun, holding fans in a trancelike orbit.
flipturn's music has spread to a national and international audience of music lovers entirely through organic word-of-mouth and grassroots efforts. With over 30 million streams on Spotify and sharing the stage with the likes of Mt. Joy, Saint Motel, and Magic City Hippies, the band shows no signs of slowing down.
Links: Official Website | Facebook | Twitter | Instagram | Spotify